Jon Batiste is 26 Years Old, and Taking the Jazz World By Storm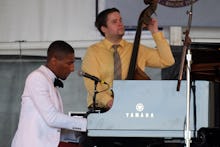 Jon Batiste, a 26-year-old jazz pianist, is up to something unusual. In a time when pop music is going back to American folk roots (see Mumford & Sons), Batiste is instead diving into a different America: the New Orleans jazz world. His pop is peppered with funk, R&B, and classical sounds infused with New York pizazz and class. More than that, though, in an increasingly plugged in world, Batiste is cheerfully working through his music to create an actively immersive, unplugged culture. To help us all 'stay human'.
Batiste and his band, Stay Human, released their first album, Social Music, this week, and it is an impressive mix of styles. The group moves seamlessly from piano interludes ("D-Flat Movement") to soul ("Let God Lead") to exaggerated blues (the marvelous "St James Infirmary") to land at an inventively talented take on the "Star-Spangled Banner" that Jimi Hendrix himself would be proud of.
But the true pull of Batiste and Stay Human lies not in their skill, but in the message of the album name: this is social music. Before releasing this album, the band made a name for themselves through their performances. They began "love riots" where they (with Batiste on an oddly portable harmonabord) would appear in unusual spaces, like the New York City subway, and play raucous music while encouraging onlookers to join them in an impromptu parade.
Each of their stage shows begins with the band emerging from the crowd. They move through the audience talking with random members as they make their way to the stage. Indeed, this is the message of the band's name — concerts are meant to be lived, communal experiences. A Jon Batiste concert is not one to spend languidly swaying and Instagramming; Batiste and Stay Human create a thoroughly inclusive experience.
Their approach to music is hard to capture on their new album, since so much of their music is based in improvisation. Their live spontaneity is somewhat absent on record. At one concert in New York this summer, for instance, Batiste slipped runs from a Chopin Nocturne into one of his piano solos. Even if he'd recorded that solo, it wouldn't feel as surprising on record as it did live.
The group's complex mix of genres and sounds also speaks to their inclusive attitude. One can be drawn into the music from many different musical backgrounds — jazz, pop, soul, and any number of world music traditions. Batiste pulls from his musical life experience to create this non-categorical music. He is clearly influenced and draws most heavily from his origins in New Orleans. His family is musical royalty in the city. They've even inspired characters on HBO's Treme, on which Batiste has appeared.
But Batiste left the city to attend the Juilliard School in New York with the other members of his group. There's a lot of New York in this album — its New Orleans brass is bolstered with hip-hop beats and more downtown-leaning jazz sounds.
Social Music reaches its pinnacle on "It's Alright (Why You Gotta)," which features a cha-cha beat, classic jazz riffs from the band, and Batiste's soulfully begging voice tying it all together with a funk twist. Batiste seeks a new musical world. One where a song like "It's Alright" is as danceable as Robin Thicke's "Blurred Lines." A world where we maybe could have avoided spending our summer writing articles on the latter and danced gleefully to the former.