NYC Mayor Race: Why NYC's Tech Community Should Be Worried About the Next Mayor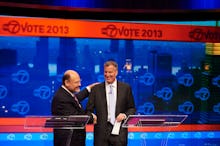 While Mayor Michael Bloomberg has all but rolled out a literal welcome mat to attract startups to New York, mayoral candidates Bill de Blasio and Joe Lhota have not yet demonstrated that they intend to maintain Bloomberg's high priority on attracting innovation.
New York Tech Meetup (NYTM), the largest single organization devoted to organizing the city's tech community, hosted conversations with both de Blasio and Lhota. Both candidates acknowledged the importance of the tech industry but focused the conversations around their own pet issues: de Blasio on public education and Lhota on lowering corporate taxes.
Of the two mayoral candidates, Lhota would probably be the natural choice for the tech community, which seeks to lower barriers to starting new companies including reducing high tax rates. Lhota supports significantly reducing the tax burden on companies and wealthy individuals, a position he highlighted in his conversation with NYTM.
As the former head of the Metropolitan Transit Authority (MTA), Lhota has also worked directly with NYC's Chief Digital Officer, Rachel Sterne. Lhota shared an anecdote about his time at MTA that demonstrated his support for the civic role of private technology enterprise.
"When I got there, they were talking about the MTA creating apps for itself for where the trains are and where they're located...And I stopped it and I said no, we're going to put the data out, let the tech world decide what it [will be]," he told NYTM. "I'm a big believer in providing as much information as possible to the [tech] community to be able to create apps."
However, the smart money is on de Blasio for the next mayor considering his commanding 43-point lead over Lhota in a September poll. This may not be such a bad thing for the tech community, as de Blasio's focus on education will significantly benefit them in the long term.
De Blasio has been outspoken about his desire to raise taxes on the wealthy in order to fund public education. He pointed out in his conversation with NYTM how this benefits technology companies by educating a young workforce with technological skills. In addition, de Blasio proposed significant public subsidies to the City University of New York (CUNY) to offer more workforce-training programs in technology, which would also fill the critical talent gap in the technology communities.
Both de Blasio and Lhota have large shoes to fill in the minds of the NYC tech community. Mayor Bloomberg has been a driving force in promoting entrepreneurship in New York. The NYC technology industry has blossomed under Bloomberg's attention. According to a study by Bloomberg's private foundation, the industry currently employs 262,000 NYC workers and "contributes nearly $30 billion annually in wages to the local economy."
However, Bloomberg will also leave behind significant challenges for his successor in resolving the conflicts between up-and-coming innovators and established industries in the city.
New York has not been as receptive to "disruptive" Silicon Valley-style startups like Uber and Airbnb, which aim to upend the traditional business models for the transportation and hotel industries respectively. The legal troubles faced by Uber and Airbnb may offer a preview of the rocky road ahead for Silicon Valley startups looking to disrupt industries in New York City.
The car-ride service Uber ran into numerous legal problems in making its mobile application to "e-hail" a car available to the New York City public.
While Airbnb has been widely adopted by New York residents, the government has expressed frustration with the fact that Airbnb does not currently pay a hotel tax on its revenue in New York, as well as the increasingly frequent occurrences of absentee tenants renting out their apartments for a profit. In early October, the New York attorney general subpoenaed the personal information of the 225,000 Airbnb users in New York, citing the aforementioned concerns.
Airbnb and Uber exemplify startups that rely on the "sharing economy," peer-to-peer exchange of goods and services. Sharing economy startups often evade established industry regulations and worker protections, which help their bottom lines but also frustrate established industry players who do follow those rules.
NYTM references the importance of the these peer-to-peer exchanges in its list of "Technology Policy Goals" for the new mayor released in January 2013. One goal reads: "Make New York City the most citizen-connected community on earth, where its people connect with each other to unleash a powerful 21st century economy: selling to each other, renting to each other, funding each other, sharing with each other, coworking with each other, meeting up with each other, and hiring each other."
Perhaps foreshadowing future conflict between de Blasio and the city's tech community, de Blasio indicated a concern about sharing economy startups like Airbnb in a recent Reddit AMA: "While I appreciate the potential of the sharing economy, and I do think there's some historical precedent, the challenges posed by AirBnB today are real, in terms of safety, public tax revenue, etc."