Gay Marriage Ban: The Trouble With Indiana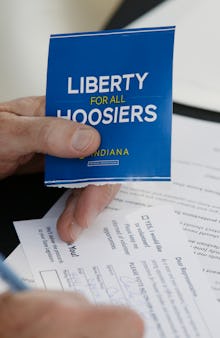 Almost two years ago I packed two bags and bought a one-way ticket to New York City. I'd lived all 22 years of my life in Indiana until that moment, but the newly revamped battle over same-sex marriage in the state makes me think I got out just in time. 
Indiana is torn over gay marriage and so am I.
I joined staff with a church in Indiana after graduating college. For a time I was happy there, but after a few months it became clear to me working there wasn't the right fit. I'd thought I was gay since childhood, but at the time I was still hoping God was going to "heal me" and turn me straight.
I still identify as Christian, but a year ago this month I accepted I was gay. I'm realizing now, however, that the two identities are harder to reconcile than I thought.
When it comes to a ban on gay marriage I understand both sides of the debate. I find myself in the middle of the playing field, turning my head both ways, trying to decide what team to join.
For many opposing same-sex marriage it's about the Biblical definition of marriage: one man and one woman. I can respect that. But if that's the issue then let's call it something else, grant the same rights to gay couples as straight couples, and move on. The current proposal for a ban on gay marriage in Indiana goes one step further. It also would not allow for civil unions or "identical or substantially similar to that of a marriage." That I cannot stand behind or respect.
It saddens me that a state I love, where so much of my history lives, would go this far to exclude an entire population of people. The idea surely doesn't do well for the state's "Hoosier hospitality" reputation. As more Americans are becoming accepting of same-sex relationships, why would Indiana take such a strong stance against them?
The state has a year to think about the proposed ban. During that time groups on both sides will be fighting for what they believe. As for me, a man who is Christian and gay, I will continue to think about where I stand and what I believe.
It's the least that I can expect from the rest of the state.