Botched Execution Leaves Iranian Man Hanging Twice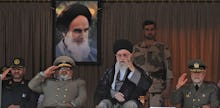 An Iranian man who survived his execution has been ordered to go through the process again after he was found alive a day later in the morgue. The man in question, 37-year-old Alireza, had been arrested and charged with smuggling crystal meth into the country in 2010, an offense punishable by death in Iran. After being declared dead 12 minutes after the hanging, the father of two was sent to the morgue in order to prepare his body for burial. It was there that a mortician noticed steam inside the plastic cover his body was placed in.
Now the Iranian judicial body has stated that once Alireza, whose surname has not been revealed due to privacy concerns, recovers, he will be sent back to the gallows to complete his punishment. Human rights organizations worldwide are outraged. Iran is one of the few prominent countries in the world that still carries out the death penalty, along with China and the United States. Despite protests from the likes of Amnesty International, Iran's judiciary body is likely to go ahead with the execution.
A judge from the country's administrative court, Mohammed Erfan, states: "The sentence issued by the revolutionary court is the death penalty [and] in such circumstances it should be repeated once again." But Iranian executions via by stoning may result in prisoners being freed if they manage to either escape from the hole they are placed in or survive the execution. Pure hypocrisy.
Drug use and drug smuggling have increasingly become a problem in Iran, with the criminal justice system responding by issuing harsher punishments, including executions. Out of the 300 plus executions already completed in Iran this year, the government states that most of them were for drug-related offences. Although newly elected President Hassan Rouhani campaigned on a commitment to human rights, the presidential administration is not in charge of the judiciary body. Rather, its chief judge is appointed by Supreme Leader Ali Khamenei. Good luck on that appeals process.