Wes Anderson's 'Grand Budapest Hotel' Trailer is So Deeply Wes Anderson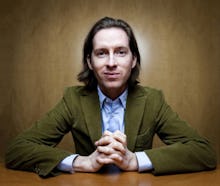 Wes Anderson, the hit writer, producer, and director of films like The Royal Tenenbaums, Fantastic Mr. Fox, and Moonrise Kingdom, is coming out with a new movie: The Grand Budapest Hotel. The movie is set for theatrical release on March 7, 2014. The creators released the first trailer for the movie today, and fans of Anderson's work are definitely pleased with what looks to be a fast-paced, action and adventure flick packed with the fantastic staging, hyper-stylized sets, and quirky characters for which Anderson's movies have become known.
The Grand Budapest Hotel follows the story of Gustave H. (Ralph Fiennes), a legendary concierge at the Grand Budapest Hotel, and his young lobby-boy-turned-protégé, Zero Moustafa (Tony Revolori). The plot centers on the theft of a Renaissance painting and a feud over a grand family fortune set against cultural upheaval in Europe near the beginning of the 20th century. Other featured cast members include Saiorse Ronan, Jude Law, Willem Dafoe, Adrien Brody, Owen Wilson, Edward Norton, Jason Schwartzman, Tilda Swinton, and Bill Murray. Murray, Norton, and Schwartzman also played roles in Moonrise Kingdom, Anderson's most recent movie, and quite a few others in the cast have worked on Anderson films in the past.
Anderson is known for his unique cinematography marked by iconic framing, and flattening camera angles. According to Matt Zoller Sietz's book, The Wes Anderson Collection, this film was shot in three different aspect ratios. Each ratio seems to correspond to one of the film's three different time periods. Watch out for more technical experimentation in the film. Given past criticism of Anderson's handling of race, it will be interesting, too, to see how he handles his diverse cast. Let the speculation and anticipation begin.