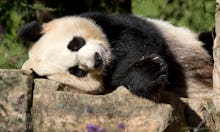 After 17 days, President Barack Obama signed legislation that will reopen the government, raise the debt ceiling … and reopen the Pandacam.
The Pandacam is a popular 24-hour live stream featuring the Smithsonian National Zoo's cuddliest inhabitants. Due to the shutdown, the live feed of Mei Xiang, Tian Tian, and Mei Xiang's eight week-old cub were all deemed "inessential" functions of the government. The Pandacam consequentially went offline.
While the animals were fed and cared for throughout the shutdown, the same cannot be said for those who were deprived of the panda sightings for over two weeks. 
The webcam broadcasts through the National Zoo's website and requires federal resources, namely staff, to operate and control camera equipment.
The zoo itself is scheduled to reopen on Friday. All Smithsonian museums opened at 10 a.m. Thursday. And lucky for us, the Pandacam appears to be back online as of 10:40 a.m. Thursday.
Mei Xiang, Tian Tian, and eight week-old baby panda — proceed with your frolicking.