Maryland Gynecologist Found With Drugs, Images Of Patients' Genitals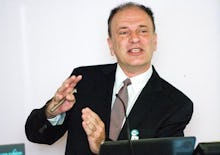 The worst nightmare of many a woman who has ever felt embarrassed at a gynecological exam has now become a reality at a Towson, Maryland practice, where a state and federal investigation has found that Dr. John Yacoub allegedly had images of female genitalia on his phone, used and distributed illegal drugs, and had an affair with a patient. The presence of a gloved hand and medical equipment in several of the photos supports the allegation that they were taken in his office, rather than in some strange sexual roleplay session.
Yacoub, who got his medical training in Beirut, denied the allegations to reporters from the Baltimore Sun, reminding them that he has practiced in the community for 30 years and had 10,000 patients. "I've never done anything wrong," he said. Indeed, he has some very positive review pages around the internet, suggesting that his egregious violations of privacy and medical ethics might be isolated to the woman with whom he was having an affair.
A similar incident may have occurred earlier this year in the area: Dr. Nikita Levy is still being investigated for making secret recordings of patients, but his suicide soon after the investigation began has complicated matters.
Whatever Dr. Yacoub was up to, he was much worse at hiding it than Dr. Levy. Dr. Levy's recording device was hidden inside what looked like a pen (similar to a device used by New York subway upskirter Adam Levinson, who interestingly enough was a urologist) but Dr. Yacoub's photos were found on his phone, a conspicuous-enough device to be whipped out in a gynecological setting. And apparently, what tipped off investigators was a report from his staff late last year that Levy kept large bottles of controlled substances, which led to his suspension last November. Thus, why didn't any patients notice his prolonged peering into their private parts?
Johns Hopkins University, with which the hospital at which Dr. Yacoub held his private practice was affiliated, apologized for the incident. Hopkins Medicine's board of trustees completed a "thorough internal review" and "is taking immediate and long-term steps to help protect against such incidents happening in the future in any Hopkins entity," spokeswoman Kim Hoppe told the Baltimore Sun.
A State Board of Physicians hearing on Yacoub's suspension is expected on October 23, when no doubt more grisly details will emerge.