The Pope is Auctioning Off His Harley Davidson Motorcycle for Charity. What?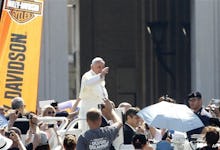 In his first seven months of papal leadership, Pope Francis has made it his mission to shake up the Catholic Church in both its prayers and actions. And in an announcement earlier this week, Francis revealed he would be auctioning off two Harley Davidson motorcycles he was gifted for charity.
The pope was given the Harley by the American company as they celebrated their 110th anniversary in June. The proceeds from the auction will benefit the Caritas' Don Luigi di Liegro Hostel and Soup Kitchen, located outside of Rome. Francis has received other vehicles in the past, such as a Renault 4 from an Argentine priest in September.
Instead of availing of the luxury vehicles that transport heads of state, the pontiff took the gift with aplomb and rode it for a test drive around the Vatican. This demonstrates the Church's attempts at being prudent and generous in a time of great economic and theological uncertainty. It also gave the American bike company some good PR.
For Rome, a city full of vintage supercars and Vespas, this announcement may leave some Catholics wondering if the reformist Pontiff could be spotted on a bike with the Swiss guards in tow.