TLC Documentary: 10 Times the Band's Lyrics Got Way Too Real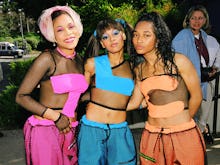 As I'm sure my fellow '90s kids can agree, a new greatest-hits album and biopic about TLC is the icing on the cake of childhood music favorites who are making their way back into the spotlight. TLC's album CrazySexyCool remains the best-selling album by a girl group in the United States and, as the trailer to the new documentary boasts, the group still holds the record for the highest grossing tour by a female group ever. Explaining the unique appeal of the powerful trio, USAToday said it best: "TLC's pioneering blend of rap and R&B hit a sweet spot, with just enough pop to be palatable to mainstream audiences and just enough edge to keep their hip-hop integrity." Surviving band members Chilli and T-Boz have teamed up with writer Kate Lanier to create the new VH1 biopic, CrazySexyCool: The TLC Story. The documentary, which premiered Monday night, is a vulnerable and honest depiction of the group's musical ascent. It pays tribute to friendship through adversity and, of course, acknowledges the devastating loss of Lisa "Left Eye" Lopes in 2002.
In the trailer for their new film, the three girls from TLC chant "TLC! MTB!" It's short for "TLC, Meant To Be." This mantra propelled Chilli, T-Boz, and Lisa "Left Eye" through the rollercoaster ride of musical successes and hardships. The group's newly released greatest hits album, 20, features one new single written for the film's soundtrack titled, "Meant To Be." Written by Ne-Yo, the song is a feel-good anthem about growing up together: "Said we always knew that no matter what would occur / That we were meant to be. And it ain't gonna be easy / But no matter what — baby, we're meant to be."
TLC's lyrics have always been iconic for their powerful, true-to-life reflections. Whether or not the group wrote their own material, their irreverent, unapologetic vibe encouraged many young people growing up alongside them to be fearlessly individualistic. In that spirit, and honoring the group's resurgence, here are 10 times TLC's lyrics got way too real:
1. "Waterfalls"
"And like his promise is true, only my faith can undo the many chances I blew to bring my life to anew." 
Apparently there's been quite a conflict surrounding the re-released "Japanese edition" of "Waterfalls," featuring singer Namie Amuro instead of Lisa "Left Eye" Lopes. The Daily News says Chili and T-Boz's decision to replace Lopes' famous verse angered the deceased band member's family. Catch a preview of the Japan-only release here. 
2. "Unpretty"
"You can buy your hair if it won't grow / You can fix your nose if you say so / You can buy all the makeup that M.A.C can make / But if you can look inside you, find out who I am too / Be in a position to make me feel so damn unpretty."
Did you know that the song "Unpretty," featured on TLC's album fanmail, was originally a poem by T-Boz? In fact, it was her first poem. The song is famous for illustrating a woman's struggle with self-image and the beauty standards held up by pop culture. 
3. "Baby Baby Baby"
"Well, you want my heart and all my time / Well, it won't be there if you can't deal with my mind / 'Cause a girl like me won't stand for less / I require plenty conversation with my sex."
TLC was infamous for its honest lyrics regarding sex and sexuality alike. Regarding the trio's unique brand, USAToday said, "Refusing to fall in line with other scantily clad female artists, their baggy style and honest sexual lyricism found TLC a permanent spot as a symbol of female empowerment."
4. "Waterfalls"
"I say the system got you victim to your own mind."
Left Eye, who rapped these words in her famous verse to "Waterfalls," won five Grammies for her work with TLC, but she also worked notably as a solo artist. She was a featured rapper on the track "Space Cowboy" by N Sync and created "Left Eye Productions," which was instrumental in the development of R&B trio Blaque. 
5. "What About Your Friends"
"Every now and then I get a little crazy / That's not the way it's supposed to be / Sometimes my vision is a little hazy / I can't tell who I should trust or just who I let trust me."
This song, "What About Your Friends," was co-written with long-time TLC friend and producer Dallas Austin. Austin has worked with everyone from Michael Jackson to Lady Gaga to Madonna.
6. "Red Light Special"
"I know that you want me / I can see it in your eyes /You might as well be honest / 'cause the body never lies"
Speaking of lies, we all remember — of course — when Left Eye burned down her boyfriend Andre Rison's house after discovering his infidelity. Sing it with me: "I don't want no scrub, a scrub is a guy who gets his house burned down by me…"
7. "What About Your Friends"
"They dog me out then be next to me / Just 'cause I am what some choose to envy."
Who wouldn't envy TLC? CrazySexyCool is the first and only album by a female group to be certified diamond by the RIAA (to date). The album has sold 23 million copies worldwide. 
8. "Case of the Fake People"
"Goodbye, goodbye to all the fake people in my life / I never wanted you around me, so be on your way now / You better think twice before you let people in your life."
Lil Mama is not a "fake person," but she is starring as the fake Left Eye in TLC's upcoming VH1 biopic. Apparently, she really transformed herself for the role in order to fully capture Left Eye's unique charisma.  
9. "Sumthin"
"What gave you the right to misjudge me and write me off on the wall? / Acting as if you understand me / In reality you just don't know me at all / Sometimes I can't help but wonder if this was how it's meant to be."
T-Boz has been featured on The Real Housewives of Atlanta, The Celebrity Apprentice, What Chilli Wants, and most recently TLC's (the TV network, not the band) Totally T-Boz. She has opened up very candidly about her health and financial struggles, which have kept her from being a successful solo artist. 
10. "Waterfalls"
"Dreams are hopeless aspirations / In hopes of coming true, believe in yourself / The rest is up to me and you. "
Do you dream of seeing a TLC comeback in person? If so, you're in luck! The duo performed their "Return of TLC" act live at Hershey Park's Mixtape Festival July 26 and 27, alongside Hanson and Boyz II Men. It was their first gig in four years. Here's hoping for many more!