'12 Years a Slave' Book: The Real Story Behind the Film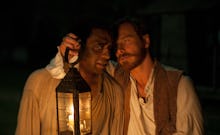 Solomon Northup was born in 1808 as a free man of mixed African, European, and Native American descent. In the winter of 1841, while working in Saratoga Springs, NY, he was tricked into following men he thought were potential employers to Washington, D.C. where he was drugged, beaten, and kidnapped. He woke to find himself in a slave pen and was eventually sold at auction in Louisiana. After 12 years spent enduring the pain and terror of slavery, Northup was rescued in 1853 through the intervention of his family, his friends, and the governor of New York.
Northup's susceptibility to a ruthless kidnapping despite his relatively high status is a perfect illustration of how tenuous freedom was for all black Americans in the Antebellum United States. In addition to its descriptions of the brutality of slavery, his narrative also provides a window into the complex dynamics of class, identity, and race in the tumultuous period leading up the American Civil War.
Northup was born in Essex County, NY, the son of Mintus Northup — a former slave who had received manumission upon the death of his master — and a freedwoman of mixed African and European descent. Mintus Northup's former master was a man named Henry Northup whose son, also named Henry, became a friend to Solomon and, after receiving a letter that Solomon managed to send north, enlisted the help of New York Governor Washington Hunt, who signed a requisition demanding Northup's return. 
In his narrative, Solomon Northup provides vivid descriptions of the physical, psychological, and sexual violence that white slaveholders employed to control and instill fear in their captives. Take, for instance, this passage about a young enslaved woman named Patsey:
"If [Patsey] ever uttered a word in opposition to her master's will, the lash was resorted to at once, to bring her to subjection; if she was not watchful about her cabin, or when walking in the yard, a billet of wood, or a broken bottle perhaps, hurled from her mistress's hand, and would smite her unexpectedly in the face. The enslaved victim of lust and hate, Patsey had no comfort of her life."             
Upon his release, Solomon Northup fought a legal battle against his abductors. The Washington, D.C. court, however, refused to admit the testimony of a black man. Unlike many former slaves, Northup used real names and places in his book and refused to employ euphemisms or pseudonyms. He was able to expose his tormentors to the nation, selling over 30,000 copies of his first edition.
While some academics, such as Louisiana State University's James Olney have commented that the influence of northern abolitionists — who encouraged former slaves such as Northup to commit their stories to paper — casts some doubt on the veracity of their narratives, other scholars such as Harvard's Henry Louis Gates Jr. — a consultant on the film — and David A. Fiske, have argued that Northup's story is most likely quite truthful. Northup wrote his harrowing, but ultimately triumphant memoir when the memories of his pain and suffering were still incredibly fresh. Screenwriter John Ridley has recently spoken of his commitment to sticking to the facts. For a compelling and heart-wrenching film, it would seem that the facts of Solomon Northup's story are more than enough.