That One Crazy Substitute Teacher Who Did Heroin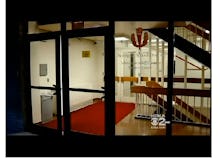 We all have that one substitute teacher story, but it usually doesn't involve the sub passing out from heroin use in front of a class of 11 students. That is exactly what happened at Northgate Middle/High School in Pittsburgh, Penn. on Wednesday. After collapsing, authorities found bags of heroin in the sub's possession. He admitted to shooting up at 6:00 a.m. before class started. The sub had been called in for an art class.
The substitute, 26-year-old Christopher Chiappetta, had been caught acting strange during the day by Bellevue Police Sgt. Mike Hudson. Chiappetta took a break close to noon, returned to class, and passed out in front of the entire class shortly after.
Hudson and other administrative staff were able to wake up Chiappetta, who initially denied being under the influence of substances. Hudson reported that Chiappetta had "glassy eyes, pinpoint pupils, an unsteady gait and was disoriented." That became a lot harder to deny as authorities recovered four small bags of heroin from Chiappetta's pockets, and marijuana and wrapping paper from his vehicle.
Hudson stated, "When a person makes a decision to use a narcotic, and he's actually being a substitute teacher, that's pretty severe drug usage, and he needs a lot of help." Chiappetta is currently in the Allegheny County Jail with a standing $10,000 straight bond.