How the Shutdown Could Make Federal Employees Richer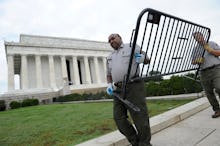 For the first time since Occupy Wall Street, the words "one percent" might have a positive financial connotation. 
A possible outcome of the bill that was passed only hours before default may lead to a 1% pay raise for all federal employees. This would be the the first raise since the pay freeze implemented in 2010. There remains some uncertainty around the raise because the bill does not explicitly outline a pay increase. Rather, it lacks an explicit defense against the president's suggested New Year's advance that the increase might happen automatically. This assumes representatives in Congress won't rebel and dig their heels into the dirt. 
Federal employees may find their pay still frozen, and consequently are withholding most of their relief and excitement. If House Republicans do decide to pick this fight, although unlikely, they still hold the power to put a hold on the raise by passing new legislation.
Some government agencies, on the other hand, may not get the funding needed to increase wages, according Jessica Klement, legislative director at the National Active and Retired Federal Employees Association. It depends on the outcome of the next budget blueprints scheduled for release by Dec. 13.
Nonetheless, there may actually be a separate, accidental raise for federal employees. Since workers were furloughed for nearly three weeks, they all are entitled to receive back pay for the work they were unable to do. Though this isn't a permanent raise, workers will at least receive compensation for their stalled labor.