Anthony Weiner Blames the Internet For His Mayoral Loss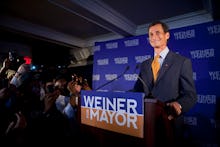 We've all played the "what if" game at some point in our lives. Anthony Weiner shared his what-if line during an interview with GQ Magazine: "If I was running [in New York City's mayoral race] in 1955, I'd probably get elected mayor."
Weiner is referring to the sexting scandal that reignited this year, two years after the initial scandal that led him to resign from his position as a U.S. representative. Many expressed their disbelief and disappointment. The media, including the New York Times editorial board, called for Weiner to bring this troubling issue "out of the public eye … and out of the race for mayor of New York City." Yet Weiner believes that without the internet, the mayoral primary results could have been different.
Nobody will ever know. This isn't 1955. But if anyone believes the internet is to blame for causing this commotion, they are seriously mistaken. The issue wasn't that this scandal had spread, but that it happened yet again.
His family might dub his actions "horrible mistakes." Being a mayor requires more than simply being politics-savvy, and it's easy to understand why some constituents wouldn't want this man representing 8 million New Yorkers and the city itself, which is visited by more than 50 million tourists annually.
Weiner himself admitted that he had disappointed his family and his constituents from the 2011 scandal. He also had said he would like to continue "[contributing] his talents." Weiner seems ready to "contribute his talents" again, but must remember that he shouldn't fall back on another "what if" moment. He really should stop making more mistakes.