Fitz and the Tantrums Performing On 'Conan' Is the Most Joyous Video You'll See Today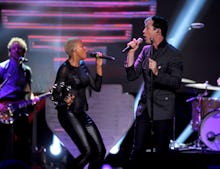 Now here's a video clip to get your weekend started off right: Fitz and The Tantrums' performance from their Wednesday night appearance on Conan. As we have come to expect from the Los Angeles–based band, the performance is peppy, flirty, and fun — the perfect song to kick off your weekend. 
The band played "Out of My League" off their latest release More Than Just A Dream, the act's sophomore studio effort. The lead single epitomizes the buzzy neo-soul/indie pop sound for which the group is known. Like the best Fitz songs, it straddles the line between radio-friendliness and indie-weirdness just perfectly.
A little background on the band: Formed in 2008, Fitz and The Tantrums' best-known song is their 2011 single, "MoneyGrabber," and their music has been featured on such television shows as Criminal Minds and Desperate Housewives. They're a must-have for your music collection, especially if you're into the soul revival currently sweeping pop music. 
Conan has always been known for having one of the strongest music-booking records in the industry, and he sure didn't disappoint here. The band sounds great on the finished studio product, but they bring a jazzy energy to their live performances that translates perfectly to television. Like a shot of Five-hour Energy (or something stronger), Fitz and The Tantrums will get your weekend off on the right foot.