2 Killers Released with Forged Documents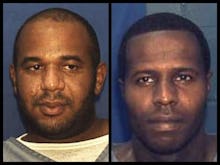 On Thursday, the Florida State Attorney's Office released a statement revealing that two convicted Orlando area killers were mistakenly released from prison. The office had only become aware of the issue after being contacted by the family of one of the victims.
Charles Walker and Joseph Jenkins, both 34, were released after forged "motion to correct illegal sentence" documents were accepted by the Orange County Clerk of Courts Office.
Jenkins was released Sept. 27 after his motion was accepted in August. After reviewing his case file, State Attorney Jeff Ashton found evidence of previous release attempts using forged documents.
Walker's paperwork was filed Oct. 7 and she was released the very next day. Documents for Walker and Jenkins included the bogus signatures of State Attorney Jim Altman and Circuit Court Judge Belvin Perry. The signatures were lifted from public court documents. The motions of both were made to look as though they were filed by the state in order to reduce the sentences. Judge Perry stated, "In my 35 years in the judicial system, I have never seen the state of Florida file a motion to correct an illegal sentence."
Ashton has directed his prosecuting team to review all case records for similar dubious court activity. The person who created and submitted the bogus paperwork is not yet known.
Joseph Jenkins was serving a life sentence after being charged with first-degree murder in the 1998 death of Roscoe Pugh, a father of six whom Jenkins killed in front of Pugh's children during a home invasion. Pugh's family alerted the State Attorney.
Charles Walker was convicted of second-degree murder in the death of Cedric Slater in 1999. Both men have extensive records of violent, drug-related crimes. The Orange County Sheriff's Office does not believe the men are together, but suspects both to be in the Orlando area.
Watch more on this story: