Why the Geneva Peace Conference Will Not Help Syria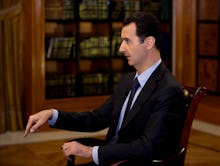 Audiences from Moscow, Damascus, Doha, Washington, London and Paris can rejoice as the date for the much-anticipated sequel Geneva 2 now has a scheduled a date. There are still some concerns that not all the actors will attend as some still refuse to work together. But fans of the Geneva series can be sure that come the end of November, there will be plenty of big guns and confused Syrian cheerleaders on display.
This is a mere analogy, but I do believe the Geneva Peace Conference, scheduled for Nov. 23 and 24, will be a mere spectacle, and will do nothing for the Syrian people. Some would argue that this is wrong, that this conference is about bringing to an end the Syrian people's misery. To which I would answer, this "peace conference" is simply an afterthought to Syrian citizens.
The Geneva Conference is more about Russia, the U.S., the Gulf States, Britain, France, and the Assad regime than the rights and demands of the Syrian people. Large sways of the opposition have refused to take part in the conference because their demand that President Bashar al-Assad should leave has not been met. In fact, these talks, if they go ahead, will re-legitimize the reign of Assad in the international community. The man plunged his country into a bloody civil war that has taken the lives of 115,000 and displaced 6.2 million. It would be the ultimate example of rewarding bad behavior. 
Assad has already ruled out talking to "terrorists," by which he means oppositional forces. Interestingly, his regime has declared that they are happy to talk to the "loyal opposition." It is not entirely clear who the "loyal opposition" is, but some have indicated that it will include the officially-approved, Damascus-based National Co-Ordination Bureau, and a selection of Kurdish groups. It is also interesting that the announcement of the conference dates came from Qadri Jamil, who is a "loyal opposition" member who was rewarded for his loyalty by becoming deputy prime minister last year.
What this indicates is that for the Assad regime, the conference is about regaining legitimacy and not resolving Syria's crisis. Much like cinema to the Syrian people, the conference is designed to be a titillating show, which will reinforce their dominant hold on power. And this will give the Syrian regime the incentive not to reform or compromise, especially now that the threat of U.S. air strikes has been taken off the table.