Cops Said This Man's Halloween Decorations Were "Too Scary" to Leave Up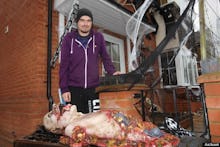 Since his grandmother Betty died in 2009 of cancer, James Creighton has found a unique way of raising funds for Cancer Research UK. For the past four years, the 25-year-old native of Stevenage, U.K. has erected a Texas Chainsaw Massacre-esque Halloween display outside his home, complete with severed corpses and cobwebs. This year, though, police are ordering James to "tone down" the gruesome display after neighborhood parents have complained.
Police dropped by to pay James a visit on Tuesday after receiving several complaints from local parents that the macabre display was too much for their children. One group of children that walks by the house frequently reportedly bursts into tears each time. Reached for comment, local police said only that they had dropped by to give the young man "some words of advice."
James told Metro that police asked him to "put a black tarpaulin across the bottom of the fence so children can't see it." The young man, who works as a promoter for bars and clubs, admits he spiced things up this year with the a few particularly "gory" additions, but remains reluctant to give into local pressure, saying, "it spoils it for everyone else then."
James says he just trying to honor his grandmother's memory and raise money for a good cause, saying to the Huffington Post UK, "decorating the house was something that my nan and mum did for me when I was younger." The Halloween display has raised over £1,800 this year so far. After the Mirror broke the story yesterday, hundred of pounds have been donated on-line by anonymous readers.
(H/T) HuffPo UK