Rex Ryan Swears He Didn't Tell His Players to Not Have Sex This Week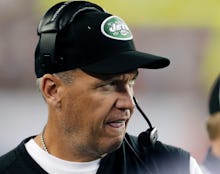 Just when we thought Jets head coach Rex Ryan had taken a page from Muhammad Ali, who wouldn't have sex for six weeks before a fight, we misinterpreted.
"I did not tell our players that they couldn't have sex," Jets head coach Rex Ryan said. "I did not say that."
Jets fans won't be relaxed for a week seven match-up with the Patriots until the game is over, but that doesn't mean the players and their wives won't now be pleased in the preceding days. Ryan clarified a message for his team that extended all the way from the locker room to the bedroom on Thursday.
Fans often have love-hate relationships for managers of pro sports teams, but Jets fans have experienced more of a hate-disturbed dynamic over the past five seasons, going from AFC Championship contenders to burnouts. Ryan should know better than to include bedroom discussion in his team meetings. 
When his off-the-field life has bubbled to the surface, we have learned of his very real foot fetish and his wife's tattoo of herself wearing a Mark Sanchez No. 6 jersey on her own arm. Either one is strange in and of itself; but in combination, and when the tattooed jersey is your husband's own quarterback? Don't get me started.
According to the newest Jet, return man Josh Cribbs, Ryan had initially urged in a Wednesday team meeting, "Rest your legs and go home. Don't do nothing for your wife. Say: Baby, next week." 
Ryan, on the surface, had meant taking the trash out, walking the dog or other household activities that might sap the players' energy in hopes of snapping a five-game losing streak to New England.
But some, like rookie defensive lineman Sheldon Richardson, who is 22 years old, had taken the coach's instructions as euphemism. When asked by reporters if his coach had implied "no sex," Richardson had responded with a huge grin, saying, "Most definitely."
The take-away? Ryan should know better than to confuse his players, who in preseason, were given laminated "media bridge" cards for dealing with difficult questions and avoiding the tabloids.