Wendy Davis Needs to Turn Texas 'Out,' Not Just 'Blue'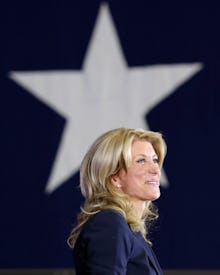 After 20 years of defeat caused the Texas Democratic Party to melt away in some parts of the state, State Senator Wendy Davis faces the daunting task of rebuilding her party while also trying to win the governor's mansion.
But youth voters could be Davis' chance at starting to change the political landscape in Texas.  And since she's made education a top priority of her campaign so far, she likely has the eyes and ears of millennials. iShe's already got a jumpstart: she surely won over many millennial women in Texas after her famous 11-hour filibuster in June.
Democrats have long viewed Texas as a place where they don't stand a chance.  It is difficult to imagine that one campaign can turn that mindset on its head, but Davis seems as sure a bet as there's ever been. She is more in touch with her state than Rick Perry, whose governorship has helped make Texas one of the nation's reddest states. 
Davis understands that many women, minorities, and young people can identify with her story: she was a single mother at the age of 19 who lived in a trailer park and has clearly had to work hard for what she has accomplished.
Even though she became a celebrity overnight for her ardent pro-choice stance among state and national Democrats, the objective is to elect more "responsible candidates" who will listen to what Texans want, rather than  focusing on turning the state blue, according to Matt Angle, director of the Lone Start Project.
"It's really not about turning Texas 'blue' as it is about turning Texas 'out,'" he said.  "Young voters in Texas have every reason to believe that the politicians in office now don't care about them, that's why they need a candidate like Davis who does care."
Who does she have to impress? Hispanic and African-American voters to start, who feel marginalized and traditionally don't vote. Millennials are also prevalent among these groups in Texas, according to Angle. He told me that millennial frustration with state politicians has been "hitting a critical mass," and the Davis campaign is the result. 
"Millennial involvement in the campaign is one of the most encouraging things so far," he said. "I can't stress enough how young people will play such a critical role in the campaign."
Angle said that millennials have already helped Davis defy the odds in winning election to the Texas State Senate in 2008 and then re-election in 2012, and that young people have been key at the county level for Democrats.
Though Davis' fund-raising has been growing steadily, it's no secret that she hasn't raised much money compared to her opponent. Young people are not known for their big pocketbooks , but Angle still sees millennials as being the "engine" that helps Davis increase the dollar signs.
"I think young people will be the echo and reinforcement chamber for fundraising and definitely have a part to play," he said.
Maybe even a starring role.