Rick Santorum Blames "Will and Grace" for Gay Rights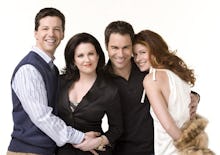 Does anyone actually listen to Rick Santorum anymore? He recently started trying his luck at a new venture, Hollywood executiveship, and the move came from something he learned in the political world: popular culture shapes people's views on political issues. And though he now hopes to proselytize his views in a subtle way, through theatrical releases such as the "overtly faith-based" Christmas feature The Christmas Candle, he's still fond of an old-fashioned tirade, against, absurdly, the TV show Will and Grace and its indirect effect on the U.S. government.
"When it came to the issues of changing the definition of marriage, there was no change — none! Zero! For 30 years," Santorum said at the Midwest Republican Leadership Conference last month. "And then a television show came on the air called Will and Grace — and look at it from that point on!" He goes on to say that even those who are against gay marriage have been "beaten up" into accepting it, thus using the language of gay-bashing to describe what he sees as mental coercion. 
The application of the term "hater" to anyone who opposes gay marriage also perturbs him, as "we have hate crimes" in this country, he says, implying that the labelling of at least some of them as such is unjustified. It's the right of the true haters, not the millions of people that they oppress, that concerns him. He also congratulates his constituency on their tolerance — "Christians are some of the most tolerant people in the world" — but cannot seem to fathom moving ahead to acceptance and celebration. Let's see now if holiday moviegoers will tolerate his new film.