Air Marshall Got Caught Taking Upskirt Photos On Duty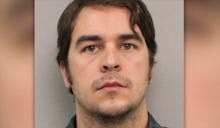 A federal air marshal (you know, those people there to protect us during flights?) was arrested yesterday morning at Nashville International Airport after getting caught taking "multiple upskirt pictures" of women boarding a plane. He was arrested after a witness noticed him, grabbed his phone, and told a flight attendant.
According to the police report, 28-year-old Adam Bartsch, who was on duty at the time, had taken 10 to 12 photos before getting caught in the act while boarding Southwest Flight 3132 from Nashville to Tampa, Fla. He admitted to taking the pictures, and told police he had done it before. 
Bartsch has been charged with disorderly conduct, and has now been released on a $10,000 bond pending a hearing Nov. 14 in Nashville General Sessions Court. 
The Transportation Security Agency (TSA) released a statement saying it was cooperating with the authorities and did not "tolerate criminal behavior." The agency immediately removed this individual from his current duties and is in the process of suspending or terminating his employment. 
To top it all off, he was responsible for delaying the flight for over an hour. 
Bartsche was probably able to get away with this before because air marshals often work alone. According to the TSA, the mission of air marshals is to "detect, deter, and defeat hostile acts targeting U.S. air carriers, airports, passengers, and crews," according to the Federal Air Marshal Service." These marshals "operate independently without backup" while on duty, and are trained to "blend in with passengers." 
In addition to generally being a total perv, Bartsch definitely failed at that last bit.