World Series Preview 2013: The Cardinals Advance On the Dodgers' Dumb Mistakes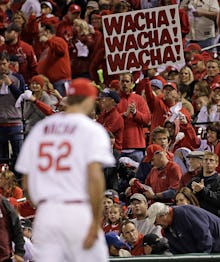 Dodgers fans must feel like the punchline to a bad Fozzie Bear joke. Everywhere they looked Friday night, they saw signs that read, "Wacha! Wacha! Wacha!" On the field, the boys in blue crumbled under a comedy of errors and another masterful performance from the Cardinals pitching phenom, Michael Wacha.
Wacha went seven scoreless innings to beat Cy Young favorite Clayton Kershaw for the second time in this series. In the process, the rookie hurler ran away with the NLCS MVP award and a 0.00 ERA for the series. What looked to be a scintillating pitcher's duel at the outset, wound up a rout of epic proportions.
The Cardinals stranded runners in scoring position in each of the first two innings, and it was easy to think that maybe they had missed their chances against Kershaw. Then came the turning point in the game courtesy of Matt Carpenter. Carpenter fouled off pitch after pitch during his third inning at-bat, spanning 11 pitches from Kershaw, before doubling into the right field corner. As it seems so often happens, a lengthy at bat like that one spelled doom for the Dodgers and their all-universe pitcher. Carlos Beltran came up and singled in Carpenter, as he has done throughout his career and in this series. Beltran went 6 for 8 with runners in scoring position this week.
However, the RBI for Beltran could easily have been all the damage done were it not for young Yasiel Puig's penchant for trying to make every play. As he has been wont to do all season long, Puig missed the cutoff and allowed Beltran to move up to second base on his throw. Had he simply gone to the cut or even directly to second, Puig could have held Beltran and allowed the Dodgers to play at double play depth for the next Cardinals hitter. As it was, Beltran was on second. Matt Holliday ultimately struck out. With two outs, Yadier Molina stepped in and singled Beltran home — a hit that probably wouldn't have even gotten Beltran to third had he been held to first by Puig. So instead of runners on first and second with two out, the Dodgers found themselves down two runs2. Following a David Freese single and Matt Adams walk, Sugar Shane Robinson stepped in and drove in two runs, highlighted by a Puig overthrow to home.
Puig would commit another error in the fifth inning when he attempted to quickly snag a Yadier Molina single while positioning his body for a possible throw to first. During an interview between innings, Dodgers manager Don Mattingly, known as one of the smartest players in the game during his time with the Yankees, stated bluntly, "I don't know how else to say it. We just keep trying to teach him." He was speaking, of course, about Puig and his blatant disregard for holding runners.
But for all of his mistakes, Puig didn't lose this game, the Cardinals won it with relentless patience at the plate and a dominant rookie on the mound. Regardless of whether they face the Tigers or the Red Sox, Cardinals fans have to be feeling pretty good about the possibility of seeing Adam Wainwright and Micahel Wacha taking the mound in five of the even possible games of the World Series .
For the opposing team, that's no laughing matter. Wacha! Wacha! Wacha!