Tiona Rodriguez Proves Pregnant Teens Need Our Help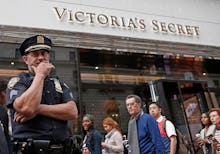 Many wonder what the secret is in "Victoria's Secret," but the secret unveiled in the flagship Victoria's Secret store located in Herald Square, Manhattan was quite something else.
Last Thursday began as a normal day in the busy Midtown shopping store. Two of the people shopping in the store were 17-year-old Tiona Rodriguez and her friend Francis Estevez. A sales associate stopped Rodriguez and Estevez for allegedly shoplifting a pair of skinny jeans when she noticed a strange smell coming from a plastic bag that Rodriguez was holding. 
Inside that bag was a dead male fetus. 
Very quickly, the store called the police, who charged Rodriguez and Estevez with petit larceny and criminal possession of stolen property, and Ms. Rodriguez was escorted to Bellevue Hospital. Rodriguez has pled not guilty to both charges. Estevez stayed behind as police questioned her regarding the fetus and how he died. (Saturday night, Estevez was released without bail on the above charges.)
This occurred while many customers continued shopping, oblivious to the commotion. However, after shoppers were made aware of what happened in the store, many were disturbed. Esther Gross, an Upper West Side resident and shopper, commented with her voice breaking, "It was sad because it was a life... and now it's gone." On the other hand, there were many who sympathized with Rodriguez: Yvonne Serano of Brooklyn stated, "She must be going through a big depression," and another source revealed that she wasn't sure what to do with the fetus.
There are further investigations being conducted in Estevez's Queens home, where Rodriguez allegedly delivered the fetus on October 16, one month shy of full term. Rodriguez, who lives with her mother and healthy two-year-old son in Brooklyn, posted "Cramps, SON" as her status  on Facebook the night before the alleged delivery, which might have also been related to the birth of her second child. 
Rodriguez reportedly told police that she took these actions because she had suffered a miscarriage and didn't know what to do with the fetus. Medical examiners are in the process of conducting an autopsy for the fetus. The probable cause might be asphyxiation, but it was declared that more tests needed to be conducted. Earlier today, autopsy reports confirmed that the baby was born alive, but the cause of the death has not yet been determined clearly. For this reason, the prosecutors are not yet elevating charges against Rodriguez.
Why is it that Rodriguez felt so helpless? Why couldn't she turn to other resources for help? At present, her lawyer has stated that she will be attending psychiatric therapy sessions, but does this mean that Rodriguez was having problems before? It's definitely hard to tell at the moment, especially because the Bedford-Stuyvesant neighborhood where Rodriguez lives has one of the highest rates of teen pregnancy in New York City. Bed-Stuy also boasts a variety of resources for teen moms, such as Planned Parenthood and A Young Mother's D.R.E.A.M.S.
While she must have felt alone, this does not mean what she did was justified. However, her helplessness must have been unimaginable. Rodriguez's passive demeanor in the courtroom does not help in explaining her actions, but calling attention to the dearth of resources available to pregnant teens who miscarry — even if she didn't — would be a good place to start. Increasing access to resources, such as contraceptives and abortion and adoption consultation, for teenage girls and boys in poverty-stricken areas of the city would also increase awareness, education, and prevention. When it's a question of future generations and teen pregnancy, the city needs to stand up for those who are unable to speak.