There Are 6 Million Reasons Why American Democracy is Broken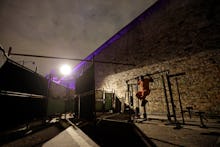 In light of the UK Supreme Court ruling that barred two inmates from their right to vote, the issue of felony disenfranchisement has come to light on the international stage. Two convicted murderers, Peter Chester & George McGeoch, used the argument that European Union law grants them the right to participate in civic duties such as voting. The UK Supreme Court response? "Eligibility under EU law is a matter for national parliaments," according to Clive Coleman, a BBC legal correspondent. If national parliaments are free to interpret EU law using their own methodology, EU law loses its purpose and thus does not protect the rights of individuals living in EU member states.
Felony disenfranchisement extends across oceans, as the issue continues to affect even those who have been released from prison. Considered a state by state issue in the U.S., the ban on voting can range from lifelong denial to probationary. Recently, states such as Kentucky have begun restoration processes that reinstate voting rights for convicted felons. This is as it should be. Voting is a reserved right, not a privilege, and prisoners are not stripped of their citizenship, so why should their voting rights be denied? In a country that spends more on inmates than students, "rehabilitation" should extend itself to the full restoration of basic rights, including the right to vote. Failure to adhere to law is punished through incarceration in state or federal prison, which itself is usually in deplorable condition. If we believe we rehabilitate our criminals through large, wasteful investments of taxpayer dollars, than we must afford them their rights by integrating them back into society when it's over. Consider the fact that the United States, a democratic republic, has a higher number of prisoners in proportion to its population than Russia or China. Furthermore, a study published by the Sentencing Project projected that almost six million Americans are denied the right to vote simply because they are convicted felons.
When examining the recent example in the UK, a question that comes to mind is if Peter Chester and George McGeoch had been convicted of insider trading or theft, whether their argument may have held more ground in the eyes of the UK Supreme Court. Certainly the public's perception may have been swayed by the fact that that Chester & McGeoch are both murderers, not common criminals. And the court's ruling hasn't incurred much protest in Britain, where PM David Cameron called the ruling "a great victory for common sense." What defies common sense is that Cameron's nation spends more on food for prisoners than it does on National Health Service patients.
Denying convicts the right to vote extends prison into everyday society, years after convicts have served their sentences. It sends the message that these former convicts will never be able to participate in civic life again. No nation can consider itself a democracy until the right to vote has been granted without discrimination.