This Israeli Gas Field Could Radically Reshape Politics in the Middle East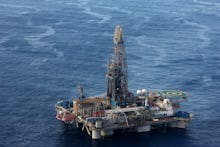 Israel is likely to become a natural gas exporter, as the legal decision determining the amount of exports from the Leviathan basin will be handed down this week. These developments will have an impact on Israel's energy dependency and alter the economic strategic balance in the Middle East. Due to the complexity of maritime issues in the Eastern Mediterranean, efforts to drill in the Mediterranean make for an unpredictable future and could lead to an economic boost for multiple countries in the region, while also escalating political tension.
Natural gas from the Tamar reservoir began flowing into Israel earlier this year, and Israel is likely to begin extracting from the larger Leviathan field in a few years. Reportedly, Israel believes that these offshore gas fields could generate up to $60 billion over a 20-year period. Additionally, Israel sees an opportunity to become "fully energy independent." In Foreign Policy, Robin Mills argues that the Tamar and Leviathan gas fields eliminate "one of Israel's key strategic and economic weaknesses; its lack of indigenous energy resources."
The maritime borders in this section of the Mediterranean Sea remain unclear. The area and resources at stake are part of three regional conflicts: those between Israel and the Palestinians, Israel and Lebanon, and the Greek and Turkish Cypriots. While Israel and Cyprus have agreed upon and delineated their shared borders, the Lebanese government contends that the Israeli-Cypriot agreement's borders infringe upon approximately 800 square kilometers of its maritime economic territory. The Israeli-Cypriot agreement also aggravates Israel's already tenuous relationship with Turkey. For instance, the Turkish government has said that Israel's natural gas cooperation with Cyprus would hinder development of the proposed Israel-Turkey natural gas pipeline.
Additionally, the gas fields off the coast of the Gaza Strip, which remain undeveloped due to Israel's continued occupation, could finally be opened. Palestinian officials cite "positive signals from Israel's government." Such a project could reduce Palestinian dependence on Israel for its energy needs while bolstering economic opportunities for Palestinians. Nevertheless, with a history of failed Israeli-Palestinian negotiations, such a development seems unlikely.
Israel's development and exploitation of gas fields near the Lebanese border could spark new tensions between the countries; Lebanese officials expressed concern over Israel's actions. In July, the Lebanese Energy and Water Minister Gebran Bassil cautioned, "If Israel drills [in the Karish gas field] vertically, it would still be possible for Israel to syphon off Lebanese oil and gas, if the Israeli and Lebanese fields overlap." Some in Lebanon, including Hezbollah, have threatened to attack if Israel infringes upon Lebanese maritime resources. Lebanon is currently surveying for underwater gas reserves.
Likewise, Israel has said it would use force to defend its resources. In 2010, the former Minister of National Infrastructure Uzi Landau said, "We will not hesitate to use our force and strength to protect not only the rule of law but the international maritime law." Additionally, Israel recently ordered new warships to strengthen its maritime security.
The search for and development of energy resources in the Eastern Mediterranean could result in economic boosts for the regional actors. Yet, it could also further exacerbate existing tensions, and the region could witness new conflicts. Either way, these new developments will reshape the economic and political landscape in the region.