New Jersey Gay Marriage is the Beginning Of a Marriage Equality Trend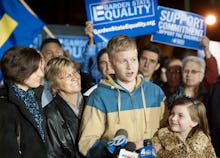 Over the next two weeks, we may see some serious changes to the political and legislative landscape of the U.S. in favor of marriage equality.
The day the Supreme Court ruled to strike down the Defense of Marriage Act, the president of the Human Rights Campaign, Chad Griffin, told the crowd standing before him on the front steps of the courthouse, "So, today, let's set a new goal. Within five years, we will bring marriage equality to all 50 states in the U.S." And it seems as though his bold claim will become a reality.
Before Monday, 13 states and the District of Columbia authorized same-sex marriages. While that may not seem like many, more and more states are using the DOMA ruling to gain legal footing for marriage equality across the country.
Starting Monday, same-sex couples can get married in New Jersey thanks to the state's Supreme Court, which once again ruled in favor of marriage equality. In September, the court ruled to legalize same-sex marriage in New Jersey, in compliance with a similar 2006 New Jersey Supreme Court decision. After Gov. Chris Christie filed to appeal the decision, the court agreed to hear arguments in early January, but the court also unanimously denied the Christie administration's request to block marriages until the appeal was settled. According to the New York Times, "The justices [did] not think the appeal had a 'reasonable' likelihood of success."
Last week, Judge Bernard A. Friedman ruled to allow a case challenging Michigan's ban on same-sex marriage to go to trial February 25. ThinkProgress reports that the case will be similar to California's Proposition 8 trial, but without questions of jurisdiction, which could ultimately lead to the U.S. Supreme Court and "determine whether any state's ban on same-sex marriage is constitutional."
The Hawaii legislature will meet later this week to discuss the consideration of a marriage equality bill, as reported by BuzzFeed. 
Virginia's legal system is actually fighting over whose marriage equality case will become the more prominent action toward a nationwide legislative action. Lambda Legal and the ACLU are on one side fighting for their lawsuit, which challenges Virginia's 2006 marriage amendment, while on the other side, lawyers Ted Olson and David Boies along with the American Foundation for Equal Rights have been working on their own case with a local law firm in Virginia Beach. In the state of Virginia with some of the top lawyers in the country, Chris Geidner of BuzzFeed claims that the Fourth Circuit Court of Appeals "is one of the best paths back to the high court."
While the Ninth U.S. Circuit Court of Appeals considers whether Nevada can ban same-sex couples from marrying, 57% of Nevada voters are in favor of removing the state's Protection of Marriage provision.
Not only are the majority of people from Nevada in favor of marriage equality, but as of July 14, 54% of Americans across the country believe marriages between same-sex couples should be legal, and this trend is growing, according to Gallup's most recent figures on marriage. Gallup also finds the percentage of those who do not view same-sex marriages as equal to traditional marriages is decreasing, from 45% in May to 43% in July. Similarly, a Quinnipiac University National Poll earlier this month found 60% of American Catholics support same-sex marriage, compared to 56% support among all U.S. adults.
It seems as though the social norm is moving more and more in favor of marriage equality, and if these smaller court cases have their way, we may see legislation for a national marriage equality measure come before the Supreme Court sooner than we had planned.