Barbara Buono is the Best Choice For Governor in New Jersey Election, Not Christie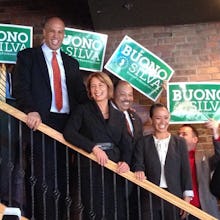 Last Wednesday night, Democrats rejoiced when Newark Mayor Cory Booker won the New Jersey Special Senate race against his Republican opponent and former mayor of Bogota, Steven Lonegan. Booker's election gives the senator-elect a chance to the progressive education philosophy he laid out in his plan to end childhood poverty. But New Jersey Democrats cannot be content with this victory; they must also fight to put State Senator Barbara Buono in the governor's seat.
New Jersey's November elections will pit Chris Christie against Buono in the race for governor. Buono has been serving in the state legislature since 1992. Like Booker's Senate seat, the Governor's Race will be a defining moment for New Jersey and, moreover, the state's potential for improved school systems.
Governor Christie supports education reform through a voucher program. Christie's specific stance on education reform does not fall under traditional conservative philosophy. However, Christie focuses on performance-based education reform. Math and English teachers teaching grades four through eight would be evaluated through their student's scores on standardized tests under Christie's plan, and their salaries would be adjusted accordingly.
This plan favors test scores over student growth, an obvious survival of the fittest flaw that would only hurt New Jersey's school districts. In order to maintain their positions, teachers will be pressured more than ever to teach the test rather than teach an interdisciplinary and experiential curriculum that inspires students to reach their full potential in an academic environment. Teachers will create fewer personalized lesson plans that cater to the talents in their classrooms in order to fulfill state standards and requirements.
W. James Popham, professor emeritus at UCLA's Graduate School of Education and Information Studies, compares standardized tests to tablespoons in an article on educational Leadership:
"Employing standardized achievement tests to ascertain educational quality is like measuring temperature with a tablespoon. Tablespoons have a different measurement mission than indicating how hot or cold something is. Standardized achievement tests have a different measurement mission than indicating how good or bad a school is. Standardized achievement tests should be used to make the comparative interpretations that they were intended to provide."
The state's largest teachers' union, the New Jersey Education Association, knows better than to support the Governor's plan for education reform and has officially endorsed Senator Buono. In 2011, Senator Buono proposed an education bill that is fueled by intimate classroom evaluations rather than standardized tests, as reported by Politicker NJ. She and her supporters clearly understand the key to equality is based on educational opportunity.
President Obama has not yet endorsed Senator Buono. Other Democrats have endorsed the governor, despite their conflicting political labels. In their eyes, perhaps, the gubernatorial race is no longer a partisan election, but one concerned with the interests of the public. This is a flawed argument, to not say a political election is no longer bipartisan. Booker says Buono will receive support and encouragement in New Jersey, with or without the endorsement of party leaders: "At the end of the day we have a state that [has] more Democrats [than] Republicans."
Booker was the first step towards an improved education system and better New Jersey; however, the second step lies within the hands of the gubernatorial winner. This is a wake up call for anyone who has ever supported the Christie administration and similar philosophies on education reform. Senator Buono's stance on education reform is not only what New Jersey needs, but a model for how other states can rebuild their classrooms. If Buono is not elected, the state's students will suffer another four years of ignorance towards rebuilding and transforming the classroom, the nation will not have a model to refer to, and New Jesey's opportunity gap will continue to grow. We cannot afford to let this happen.