Google Doodle Today Honors Celia Cruz — the Queen of Salsa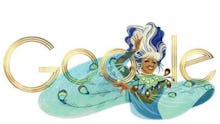 It is occasionally worthwhile to visit the internet's most popular search engine site and take note of its daily pieces of art, commonly known as the "Google Doodle." Today, October 21, the site honors Úrsula Hilaria Celia de la Caridad Cruz Alfonso, the "Queen of Salsa," with a colorful depiction.
Celia Cruz was born on October 21, 1925 and profited early on from the rich musical influences in Havana, Cuba. As a teenager, Cruz would occasionally sing in cabarets with her cousins and eventually earn a spot on Havana's popular "Hora del Te" broadcast. Defying her father's wishes for her to become a Spanish language teacher, Cruz made her first recordings in 1948 in Venezuela and gained fame in Cuba as lead singer for renowned orchestra, "Sonora Matancera".
The band traveled all over Latin America, becoming known as "Café Con Leche" (coffee with milk) and Cruz became known for her trademark shout "¡Azúcar!" ("Sugar!" in Spanish). 
Cruz defected from Cuba in 1960 and became a vocal critic of the Castro regime. As a U.S. citizen, her career continued to grow as she sang mambo, son, jazz, Latin pop, and various other styles. She would headline concerts at New York's Carnegie Hall, tour Europe and Latin America, and collaborate with music heavyweights in Latin and crossover genres. 
In 1990, Cruz won a Grammy Award for "Best Tropical Latin Performance" and two years later would star with Armand Assante and Antonio Banderas in the film The Mambo Kings. In 1994, President Clinton awarded Cruz the National Medal of Arts, and in 2004 Union City, New Jersey dedicated a new Celia Cruz Park.
Cruz died in 2003 of a brain tumor. She was 77. 
Her career spanned several decades and her status as a Latin cultural icon and music legend is undeniable. Younger audiences, less familiar with her Cruz's music and trademark smile, might recognize her song Guantanamera (video below) as the source behind Wyclef Jean's 1997 hit cover, of the same title.