Twitter IPO Price Doesn't Matter For This One Founder Of the Company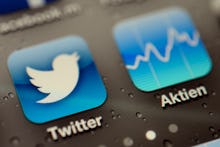 On the heels of Facebook's less than exceptional initial public offering (IPO) last year, it is time for the next massive social network, Twitter, to go public. And though Facebook's IPO left a sour taste in investors' mouths, there is very good reason to think that this time will be different. That would make the current owners of the company very wealthy. One of the founders, however, is about to get absolutely nothing from the sale. Noah Glass, who is considered even more integral to the creation of Twitter than the more famous Jack Dorsey, was booted out of the company before it was able to take off.
Allegedly, it was Dorsey himself who schemed to get Glass fired. The whole ugly, backstabbing story of the creation of Twitter has been big news since Nick Bilton of the New York Times published an excerpt of his exposé book earlier this month. Dorsey, who comes off as a narcissist who is better at selling his own Dorsey-centric Twitter creation myth than he is at managing a company, apparently felt threatened by Glass while the idea was still coming to fruition. He convinced then-boss Evan Williams to fire Glass, then played dumb to the whole thing.
Glass himself had an interview with Business Insider this October, where he admitted being left out has been "hard to swallow." It is no surprise: he was a major driving force behind the idea that became Twitter.
After an early "disagreement" with number-one funder Williams, however, he apparently made himself a target. Glass implied that his "slightly different" ideas for management of, and more passionate devotion to, the Twitter project soured his working relationship with Williams. While Glass portrays Williams as talented, nice, and shrewd, he also portrays the man as somewhat cynical, calculating, and not a true believer in Twitter.
So, after Williams and Dorsey got rid of their passionate co-founder, what happened to Glass?
Glass has done very little since his ouster, and has almost disappeared from the internet. Glass, the man who came up with the name "Twitter" after flipping through a dictionary all night, stands to make almost nothing from the Twitter sale.
Meanwhile, Dorsey has begun erasing Glass from the Twitter creation myth, and stands to earn hundreds of millions when Twitter goes public. Williams, who has since made up with Glass amicably, will be making over $1 billion.
There is something tragically un-American to see a man work hard to create something great, only to be excluded from reaping the benefits. It is the same sob story that got us all to root for a meth-dealing science teacher in Breaking Bad.
Still, Business Insider's interview reveals that Glass is coming to terms with his ouster from the company: "Twitter is a phenomenon and a massively beneficial tool and it's incredibly useful and it helps a lot of people. I realized the story's not about me. That's okay… Some people have gotten credit, some people haven't. The reality is it was a group effort."