This Gay American Journalist May Have to Be in the Same Room With Vladimir Putin, in Russia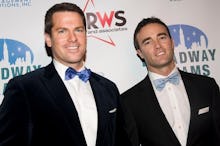 Back in August, openly gay BRAVO host Andy Cohen, who has traditionally hosted Donald Trump's Miss Universe pageant, announced he was boycotting this year's pageant — to be held November 9 in Moscow. His boycott decision came, of course, because of the host country's infamous anti-gay law.  
"It [doesn't] feel right, as a gay man, stepping foot into Russia," he said at the time.
But now, another openly gay American figure — MSNBC news anchor Thomas Roberts — is stepping up and going to Russia to host the gig that could put him face to face with Vladimir Putin (if the busy world leader indeed accepts Donald Trump's invitation to attend). 
"I am not going to boycott," said Roberts in an NBC News op-ed where he explained that "vilifying from the outside is too easy" and that showing up in Moscow and hosting this event as a journalist "who happens to be gay" is a way of showing hope to the oppressed LGBT citizens of that country. 
Thomas' position mirrors that of openly gay Olympic four-time gold medalist Greg Louganis, who back in August penned an op-ed for PolicyMic urging LGBT activists NOT to boycott the Sochi 2014 Winter Olympic Games despite Russia's violent crack down on gays. "Boycotting sends the wrong message and will only harm the hard-working athletes set to compete in the 2014 Olympics, not the Russian government itself," said Louganis.  
But, could Roberts — and the openly gay athletes who attend Sochi 2014 — be penalized under Russia's draconian anti-gay law? So far, Russian leaders have sent mixed messages when it comes to the enforcement of the law, saying the law would not be enforced, but also suggesting in different occasions that gay and pro-gay Olympic athletes and tourists "may not actually be immune from the law's penalties."
Robert's decision to host the Miss Universe pageant wouldn't necessarily put him in any Russian legal trouble.
"[My husband, Patrick, and I] understand that we go on a different privilege than a lot of other people are that live in Russia right now" said Roberts acknowledging his highly visible media personality status and the fact that he surely will travel with a security and legal team who will protect him every step of the way.  
Plus, it's Donald Trump we're talking about in here; a savvy business and media figure who's mastered the art of using [fake] controversies to promote his personal and business brand (this time, among the 1 billion people from 190 countries who will tune in on November 9 at 9:00 p.m. ET).