ESPN Makes a Mockery Of Native Americans on National Television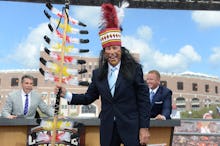 One of America's great pastimes is college football, a sport that gives student-athletes the chance to compete, alumni a totem around which to gather over the years, and young children something to aspire to. I know what that is like. I used to be one of those wide-eyed young football players who religiously spent Saturdays watching college football.
A well-established college football institution, deeply enshrined in the ESPN sports tradition, is College GameDay, the TV segment that travels the country covering weekly games. Each week the commentators on GameDay, Chris Fowler, Kirk Herbstreit, and Lee Corso, pick a high profile matchup they want to feature, pack up the van, and head out to the campus to provide pre-game coverage.
The fans go wild as overhead cameras soar, commentators break down the coming contest, and Lee Corso picks his favorite to win. He does this by dressing up like the mascot of his chosen favorite team, or by wearing a piece of headgear that denotes it. The show is great as it showcases the cities and cultures from which the teams originate. But this weekend they messed up horribly.
At a time when the entire country is debating whether or not the name "Washington Redskins" is disrespectful to Native Americans, Corso dressed up like an Osceola Indian chieftain (native to the lands surrounding his choice – FSU) and danced around like a bumbling clown while holding up a traditional Native American implement. To top it off, Bill Murray came in wearing a mask, took the implement from Corso and tossed it off the stage, then proceeded to body slam Corso to the ground and repeatedly kick him when he was down. The crowd ate it up.
How could the incident have been different? How could it have been less blatantly disrespectful to Native American culture? Corso could have come out in the same attire. He could have proudly held the same traditional spear above his head and stood resolute while admonishing the frothing crowd. Instead, the actions of the segment made a mockery of Native Americans by alluding to the white man taking out the once-proud Native American (Murray), throwing away his culture (the spear), and then continuing to kick him while he was down (Murray again).That is how I interpreted the events of this past Saturday.
Media should bring us together, not divide us. ESPN and College Gameday should issue apologies and exercise more direct control over the actions of whomever they allow on the Gameday stage. Watch the video for yourself, and come to your own conclusions if you have the time.