You Know You're Rich When You Can Buy a $100,000 Playdate With Guy Fieri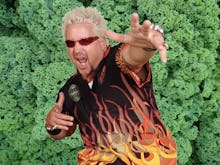 According to a new book, billionaire Steven Cohen paid celebrity chef Guy Fieri $100,000 to be his "friend for a day." In case those names do not ring a bell, Cohen is the hedge fund manager of SAC Capital Advisors who has been charged with insider trading, and Fieri is the gregarious host of Food Network's Diners, Drive-ins, and Dives – you know, the one with the spiky bleach-blond hair.
The book, From Scratch: Inside the Food Network, is the result of a three-year collaboration between author Allen Salkin and Food Network.
According to Salkin, Cohen paid Fieri $100,000 to drive him around for a day reenacting an episode from Fieri's show. Salkin also writes that the odd pair actually became close, so close that Cohen even convinced Fieri to feature his favorite Connecticut hot dog spot, Super Duper Weenie, on Diners, Drive-ins, and Dives.
One of Cohen's representatives denied the details of the author's story, but admitted that Cohen and Fieri are indeed acquaintances.
From excerpts released to the media, Salkin's book contains more than a few embarrassing inside stories about other famous culinary. Another gem involves "Iron Chef" Mario Batali, talk show host Rachael Ray, 25 shots of liquor, and a strip club. 
It must be nice to have the means to drop six figures on a "friend." If Cohen settles his case, his firm could face a hefty fine of over $2 billion. At that point, he'll need all the friends he can get.