Steve Smith Goes Off On Janoris Jenkins For Talking Smack About His Wife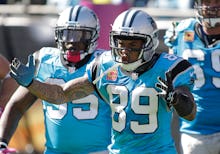 Don't trash-talk Steve Smith's family, especially if you're a second-year cornerback on a 3-4 St. Louis Rams. 
In his postgame remarks, or "profanity-laced tirade," as ESPN calls it, Smith let his anger toward Janoris Jenkins be known: "What I don't like is a young guy who comes in, who obviously his first time ever using the internet and Google, and he Googles information about me, talks about my wife and stuff like that," Smith complained. "That's just some of the bullshit I just don't play with."
The Panthers came away with the 30-15 victory, but tempers flared in Charlotte all afternoon. The Rams notched as many personal fouls as Smith had receptions on the day: five.
As you can see in the video highlights here, Smith and Jenkins had been repeatedly jawing at each other and locking up throughout the afternoon. Then, up 20-12 in the final minute of the third quarter, Smith caught a quick pass to the sideline, blew past Jenkins on a cut to the inside, and scampered in for a 19-yard score. Smith pointed at Jenkins, taunting him wildly, before erupting into a dance reminiscent of Hall of Fame cornerback Deion Sanders.
"Yes, I directly pointed," Smith told ESPN. "I don't give a damn." He continued, "He thinks he's Deion ... He's not ... When you embarrass people, you rub it in their face. When your dog pisses on the carpet, you rub it in his face."
The 34-year-old, 13-year veteran Smith is a supreme wideout, an indelible face of the Carolina Panthers and has become a favorite target of Cam Newton. He is a five-time Pro Bowler, a two-time First-Team All Pro, the 2005 Comeback Player of the Year, and he has eclipsed the 1,000-yard receiving mark seven times, most notably accumulating 1,563, 103 receptions, and 12 touchdowns in 2005.
At only 5'9", 185 pounds, he is known as much for his speed after the catch as he is for his showboating and his large mouth.
But apparently his family, and Smith's wife, Angie, is where the wideout draws the line in the sand. Don't worry, Steve, Carmelo Anthony probably feels for you. Kevin Garnett allegedly said Melo's wife tastes like Honey Nut Cheerios, leading to some hilarious chants at Boston's TD Garden last season.
"When I don't know a guy and he's talking about how's Angie [Smith's wife] doing, those things. C'mon," Smith angrily explained. He promised, "And if I seem him on the street, I'm going to bust him in the fucking mouth." 
Hey at least it's a reasonably fair fight: Jenkins is 5'10" and 198 pounds.