Major League Baseball Stands Up for LGBT Youth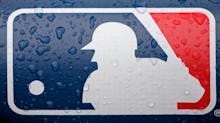 GLAAD's fourth annual Spirit Day was last week, and for the second year in a row Major League Baseball teams participated in a big way. Professional soccer, basketball, football, and hockey teams also rallied, along with UFC and WWE. I thought it was rad. Not everyone agreed.
Spirit Day was founded in 2010 and is held on the third Thursday of October. Millions of Americans wear purple on that day every year to show that they are against bullying and show support for LGBT youth. The day was conceived in direct response to a rash of suicides by LGBT youth that seemed to be caused by bullying.
For a country where baseball is considered the national pastime, MLB's participation in the day is a big deal.
As a young, queer woman who does not fit the mold of what a queer women is "supposed" to look like — I've got long hair (and a symmetrical haircut!), I like to wear dresses almost exclusively, and I don't own a denim vest covered in patches and buttons — I've long touted visibility as one of the strongest tools we have to make real change in people's perspectives. Having our allies hop on the visibility train unequivocally does more good than harm.
But of course how could any major sports team participate in Spirit Day without receiving backlash? The majority of teams stuck to the generic message provided by GLAAD, and some also changed their logos to purple on Twitter and Facebook. They were small actions — too little, some would argue — but to much for some jerks.
While many fans clicked the "like" button or retweeted, enough fans had negative reactions that several news sources wrote whole stories about them. CBS in Pittsburgh documented the negative responses the Pirates received, Yahoo Sports culled nasty messages from fans of Kansas City Royals, New York Yankees, Oakland A's, and Houston Astros, and Deadspin showed fans threatening to boycott Atlanta Braves because of their small act of Spirit Day support.
So should professional sports teams use their large platform to support LGBT youth?
Frankly, more prominent people should be speaking out. When kids don't see themselves in the world, they assume they should not — or worse, cannot — exist. For an LGBT youth to see a professional athlete stand behind an anti-bullying sentiment of support can make a huge difference. And you know what else? If an ignorant person sees their favorite team making a statement of support against something they deem "wrong" or "immoral" or "sinful," it can force them to rethink that stance.
I'm not suggesting that every bigot will magically hop off Facebook with a new outlook on life, but what's the point of working toward a revolution if we don't truly believe people are capable of change?
Most of my friends are queer. My community is queer. This is my reality. Last year the Human Rights Campaign published a report that surveyed more than 10,000 LGBT-identified youth ages 13-17 and discovered that they were twice as likely as their peers to say they have been physically assaulted, kicked, or shoved at school, and 92% said they hear negative messages about being LGBT at school, on the internet, and from their peers.
According to PFLAG-NYC, LGBT teens are 8.4 times more likely to report having attempted suicide and 5.9 times more likely to report high levels of depression compared with their peers.
In a world like this, how can anyone truly object to professional sports voicing their support for LGBT youth on one day every year?
Frankly, I wish they were speaking out the other 364.