Woman Faints During Obama's ACA Speech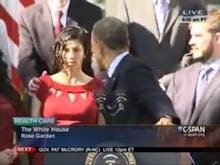 The president has been having a strange day. In the middle of a speech on the Affordable Care Act (ACA) Monday afternoon in the Rose Garden, Karmel Allison, who was standing immediately behind him, nearly fainted. He caught her, and joked that it was the result of him talking for too long.
Allison, who has had Type I diabetes since she was 9 years old, is pregnant. She thanked Obama via Twitter. 
But there's so much hot air flowing around the ACA's implementation that it could make anyone sick. I'm hyperventilating just thinking about possibly having to pay another big monthly bill I can barely afford.
Seriously, someone call a doctor.