JPMorgan Settlement Terms: 5 Things You Need to Know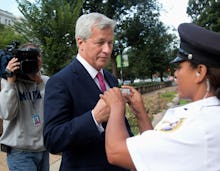 The Justice Department and JP Morgan Chase have reportedly come to a record $13 billion settlement, including $4 billion for "consumer relief." Here's what you need to know.
1. It's the result of a number of investigations.
The Justice Department has been looking into JPMorgan for a number of its mortgage lending activities. The Federal Housing and Finance Authority had filed a lawsuit against the bank for its sale of mortgage-backed securities to Fannie Mae and Freddie Mac in the run up to the financial crisis. New York Attorney General Andrew Schneiderman had also filed a suit against the firm in New York. This proposed settlement would resolve all of these cases.
2. JPMorgan can still face criminal charges.
One key component of the deal is that JPMorgan is not exempted from criminal charges. The bank wanted a non-prosecution agreement, but prosecutors held firm. They repeatedly told JPMorgan CEO Jamie Dimon that any deal would not eliminate the chance of criminal charges in the future.
3. The deal was negotiated by Attorney General Eric Holder and Dimon.
According to the New York Times, the Justice Department was ready to announce civil charges against JPMorgan on September 24 when Dimon put in a call to Washington. He wanted to meet with Holder personally and work out a deal. Negotiations began two days later with Dimon offering to settle for $1 billion, eventually raising it to $3 billion. Holder scoffed and the two have gone back and forth for nearly a month before reportedly agreeing to a $13 billion settlement on Friday.
4. This isn't all JPMorgan's fault.
Many of the crimes that JPMorgan is paying for actually happened at different firms. During the financial crisis, JPMorgan bought up other banks such as Washington Mutual and Bear Stearns, which committed most of the wrongdoing. JPMorgan is paying for their mistakes. However, don't feel too bad for the firm. JPMorgan got those companies at a fraction of the price. Even with these fines, they still received a great deal.
5. It's not done yet.
Before we start dissecting the agreement too much, remember that nothing is finalized here. The Justice Department is still negotiating for JPMorgan to admit wrongdoing in the matter — something regulators have been reluctant to require in recent years. Nothing has been announced yet so the deal could still fall apart.