Cory Booker Officiates First Gay Wedding in Newark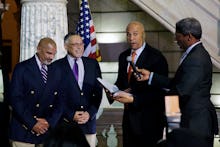 Sunday night, Cory Booker, the mayor of Newark and senator-elect for the state of New Jersey, was at Newark City Hall officiating his first-ever wedding as mayor. Prior to New Jersey's passage of a referendum legalizing gay marriage which took effect today, he had declined to carry out that particular power of his office. It just so happened that the first wedding he performed was same-sex.
When Booker asked if anyone present had any objections, a member of the audience began to yell that it was "unlawful in the eyes of God" until he was ejected from City Hall. After the room calmed down a bit, Booker continued, claiming that he had not heard any "substantive, worthy objections" to the two men's marriage.