The Joker Just Got Arrested For DUI in Maine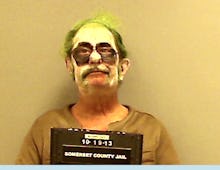 Batman wasn't required to stop the Joker in Pittsfield, Maine early Sunday morning. The cartoon villain took care of it himself.
Sixty-four-year-old Dennis Lalime crashed into multiple trees and a rock around 2am Sunday morning, according to the Pittsfield Police Department. Lalime was uninjured, but was arrested for operating under the influence. A homeowner nearby heard the crash and alerted the police department to the incident. Lalime cooperated with authorities.
Lalime fresh out of a Halloween party and still in his Joker costume — complete with face paint and dyed green hair — when he got into his 2002 Buick Regal. But the Joker's schemes generally don't revolve around drinking and drivin, something Lalime should have taken note of as he prepared his costume.