9 Travel Movies That Will Make Every 20-Something Want to Quit Their Day Job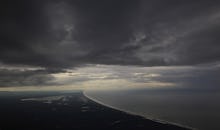 Let's be honest: the work week routine is bound to get monotonous, and what are movies good for if not the chance to escape? If you're feeling constrained in your cubicle or tired of your day job, these nine travel movies will take you on a journey around the world. You'll be envious of these soul-searching, adventure-seeking characters and the awe-inspiring sights and events they experience along the way. Be warned ... these films might just inspire you to pack your bag and hit the open road.
1. 'Vicky Cristina Barcelona'
Javier Bardem's strange love triangle with Scarlett Johansson and Penelope Cruz offers not only a great story, but an incredible tour through the modernist city of Barcelona. In Vicky Cristina Barcelona, Woody Allen brings viewers to Las Ramblas, the stunning architecture of Antoni Gaudí, and the iconic Tibidabo amusement park. You'll yearn to feel the passion and excitement of Catalonian culture. 
2. 'The Motorcycle Diaries'
The perfect film for those who think they have their entire lives planned out: The Motorcycle Diaries follows the young Che Guevara — an aspiring medical student turned notorious guerrilla revolutionary — on a journey through South America. His travels steer him away from a traditional path to pursue his true calling. Aside from the plot, the film offers an incredible lens into the South American landscape; as Telegraph puts it, the cinematic treatment of the land "is breathtakingly beautiful enough to serve as a travel advert for the entire continent." 
3. 'The Darjeeling Limited'
The Darjeeling Limited is highly typical of Wes Anderson — it's quirky, lighthearted, and adventurous. The film, which follows three brothers' travels across India, reveals "a world worth visiting" — or so says the New York Times. Anderson's whimsical film unlocks a breathless vision of India not soon to be forgotten.  
4. 'The Beach'
Despite the fact that things go downhill for Leonardo DiCaprio and his new friends, the first half of The Beach is, essentially, every young, hard-working individual's dream. The characters live a paradisic life as they idle on a beach in Thailand far from civilization and reality. While the film eventually strays from its idyllic depiction, The Beach lures viewers to seek a similarly adventurous — if less fraught — atmosphere in the far East.
5. 'Up'
Every Pixar film is loved by nearly everyone, and Up is no exception. The main character, Carl Fredricksen, a widowed balloon salesman, travels through the South American sky in a house uplifted by a larger-than-life bouquet of balloons. Audiences will surely be captivated by the dreamlike journey which introduces "alost world of weird and wonderful creatures." Up is a testament to the fact that it's never too late for adventure.
6. 'Eat, Pray, Love'
Prepare to be inspired, envious, and (without a doubt) hungry to experience Julia Roberts' adventure through Italy, India, and Indonesia. While Roberts' character — divorced and unsatisfied — travels East to do some "globe-trotting and soul-searching," she introduces viewers to a world of friendship, faith, and mouth-watering Italian food. Eat, Pray Love is based on Elizabeth Gilbert's novel of the same title, which also might make you quit your job.
7. 'Y Tu Mamá También'
Alfonso Cuaron's Y Tu Mamá También (And Your Mother Too) is a coming-of-age story meets travel-narrative. In it, two teenage boys embark on a road trip through rural Mexico in seek of an idealized beach. Their journey is full of eye-opening experiences — drugs, poverty, sex, politics, and through it all "what they discover opens their eyes to each other and the world."
8. 'Midnight In Paris'
There's hardly anything as romantic as Paris, and this Woody Allen film will make you fall head over heals with the city. Midnight In Paris sends viewers on a historical trip through the artistic golden age in this iconic European city. You'll yearn to join the characters who stroll along the Seine, idle before the Eiffel Tower, or sip wine in the Parisian cafés. 
9. 'Into The Wild'
Based on the biographical story of Chris McCandless, written by Jon Krakauer, Into The Wild is a story of wandering, a celebration of the road-less-traveled, and an ode to nature. Emile Hirsch plays Chris, a newly- graduated college student who rejects the privileged life that has been set out for him in favor of seeking purpose and excitement. The New York Times calls the character a "brave and dedicated spiritual pilgrim." The film is a soul-searching journey into nature and solitude.