This SpongeBob Headstone is What She Would Have Wanted, But Her Cemetary Wants It Gone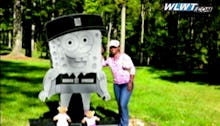 Sargent Kimberly Walker, 28, was found dead last Valentine's Day in Colorado Springs, Colorado after her boyfriend, Sgt. Montrell Mayo, allegedly struck her with a glass. Mayo was arrested a week later and is awaiting trial. Now though, a new controversy has ensued surrounding two statues that the Walker family had commissioned as a memorial to Kimberly. The granite statues depict Kimberly's favorite cartoon character: SpongeBob Squarepants.
Yeah.
Deborah Walker, Kimberly's mom, told WLWT-TV that Kimberly loved the character and was even buried with a SpongeBob doll in the Spring Grove Cemetery in Cincinnati, Ohio. Deborah and the rest of the family paid $26,000 for two statues of SpongeBob, one in army fatigues representing Kimberly and another in Navy attire, representing Kimberly's twin sister, Kara, who is an IT specialist in the U.S. Navy. Each statue is six feet high and four feet wide, weighing 7,000 pounds. The family also bought six plots of land in the graveyard to accommodate them.
An employee of the cemetery approved of the two statues and they were installed on October 10. However, a day later, the family was informed that the statues were not acceptable and would be removed. Deborah Walker is understandably upset. She lost her daughter less than a year ago and memorialized her with an expensive statue after receiving approval from the cemetery. After all of that, she's still being denied her wishes.
If Deborah Walker wants to pay tribute to her daughter by commissioning a statue of the cartoon character she loves, the cemetery should allow her to do so. She purchased the plots of land, though the cemetery likely retained some control over what Deborah could do with them. Unfortunately, they probably have the right to remove the statues.
But the Walker family wants to put Kimberly to rest and preserve her memory in a SpongeBob statue. It may be unusual, but it is meaningful for Deborah and the rest of her family. Spring Grove Cemetery shouldn't stand in their way.