It's Not You, It's Me: Why I Took a Break From Feminism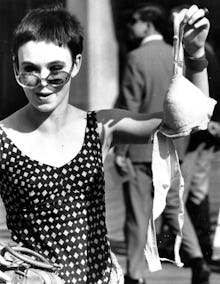 Being a feminist is often an exhausting, thankless job. Every success seems to be followed by depressing news, harrowing comments, or frustrating setbacks. The passage of the Violence Against Women Act and the Campus SaVE Act were followed by a deluge of Title IX and Clery Act violation filings by college students claiming their college violated their rights in the aftermath of a sexual assault.
The organization Know Your IX began a grassroots movement to educate college students about their rights, but then Emily Yoffe tells college women to "stop getting drunk" to protect themselves from sexual assault. Wendy Davis successfully filibustered an extreme anti-abortion bill in Texas, but nationwide we are seeing an ever-increasing number of reproductive health clinics shut their doors because of the passage of draconian abortion bills. 
It's easy to get frustrated, angry, or even depressed by these setbacks. And, it's exhausting to be constantly fighting an uphill battle against sexism, homophobia, and misogyny. Jessica Valenti aptly named the feeling many feminists face as "feminist burnout." Lindsey West called it "sexism fatigue."
Two years ago I faced serious feminist burnout. I had recently moved back to the United States from a year abroad in the Netherlands. While in Holland I had earned my masters in comparative women's studies and had worked for an international reproductive rights NGO that supported the work of grass root reproductive justice organizations in developing countries. I studied the intersection of economics, sex tourism, and human trafficking. That meant spending hours upon hours reading and analyzing feminist and queer theory.
Prior to my year abroad, I had double majored in English and women's studies as an undergrad, wrote an honors thesis about acts of public violence against 19th century sex workers, had served on the board of my college's women's collective, worked as the assistant to my campus' queer life coordinator, and ran a pretty successful independent feminist blog. I was the poster child for collegiate, feminist activism.
After over five years of studying feminism and working as a feminist activist I couldn't read another blog about the high incidence of rape on college campuses. I couldn't fathom the idea of marching on the Capitol for same-sex marriage rights. And I couldn't write another paper about the economics of sex tourism in the former Soviet Union.
So I made the conscious effort to take some time away from feminist activism. I had a new job in New York with a non-feminist organization. I had a group of new and old friends who were definitely feminists, but who weren't going to think any less of me if I didn't go to the reproductive rights rally happening that weekend. And, I didn't have any women's studies classes to write papers for. I shut down my blog, boxed up my feminist books, and checked the feminist blogosphere only once a week. I didn't go to any rallies or marches. I gave up Bluestockings cold turkey.
However, despite my best efforts at taking a break, the importance of feminism kept creeping back into my life. I faced the nasty combination of sexism and ageism at work. ("For a young woman, she's actually quite intelligent and responsible.") During the ten-block walk from my apartment to the office I was cat-called at least once a day. When my partner and I decided to purchase a home and move in together I faced nasty comments from family members. ("So much for being an independent woman" and "We all knew she'd settle down eventually.")
Ultimately, it turned out to be more depressing for me to take a break from feminist activism than it was to be engaged in the movement. I felt very alone working at an organization where I didn't have any colleagues I felt I could turn to without being made to feel that I was being overly sensitive or too politically correct. I didn't have meetings to go to where I could discuss feminist political organizing and leave with that feminist-high.
After a little more than a year away, I decided it was time to reengage in the movement. I joined the board of a national sexual violence prevention organization, began blogging again, and ordered more feminist books than I could hope to read in a year. I began each day with my favorite feminist blogs. I felt re-energized and more committed to feminism than ever before. But, I had also come to a different place in my relationship with feminism: I promised myself that I would take more time for self-care, listen to my gut, and respect my own emotional, mental, and physical limitations.
I can't attend three rallies at once. I can't volunteer with every feminist organization in New York City. I can't blog for half a dozen different feminist websites. No one can take on that much responsibility and not get burned out.
My break helped me to put my relationship with feminism in perspective and showed me my own limitations. If the link to a blog post is preceded by "trigger warning," I might heed it. If going to a rally for abortion rights at my state capitol means I will have to spend five additional hours in my car on top of the fifteen I already spent commuting to work that week, maybe it would be healthier for me to spend my Saturday reading bad magazines and drinking cocoa. I realized that taking time for myself doesn't mean that I'm a bad feminist, but it does make me a healthy one.