Here's Proof That Cable Should Be Afraid Of Netflix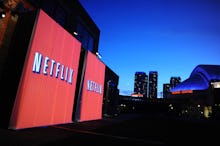 Netflix Inc., traditionally considered an online streaming video service, is poised to surpass HBO, the powerful premium cable channel, in the number of paid U.S. subscribers. Netflix is estimated to have 30 million paying U.S. customers. HBO, Time Warner's premium cable TV network has 28.7 million.  
There was a time, not too long ago, when subscription-based cable television was a risky emerging market and Blockbuster Video was king. Cable TV has since grown dominant as technological improvements in bandwidth and internet speed have given rise to reliable streaming video. Now, online streaming content is poised to take over the entertainment and information throne. 
Sites like Youtube, Hulu, and Netflix are all jockeying for our collective eyeballs.  Popular content like the TBS show Conan and Comedy Central's Key and Peele have impressive online followings in the beloved younger demographics. Key and Peel currently completes each new viral video with a plea and reminder that "We are actually on TV, please watch our show."
Netflix has recovered from previous blunders and has managed to hook viewers by taking a successful gamble on its Emmy-winning series House of Cards, a high-quality drama in which the entire season was released at once.  The return of the Fox hit comedy Arrested Development as part of Netflix's growing list of original programming won't hurt it either.
At the end of the day, an $8 monthly subscription is hard to beat. It offers movies, shows, and original programming without requiring a long-term commitment.  
Netflix Chief Executive Officer Reed Hastings is making progress toward the goal of transforming the streaming service to a web-based television network. Freeing the Netflix service from the limiting web and video game console platforms through premium cable partnerships will further solidify the company as an integral part of entertainment programming.