Pearl Jam is Keeping 90s Grunge Alive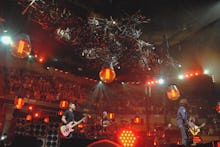 If you thought Pearl Jam was another one of those Seattle grunge bands best relegated to the 90s, then you don't know a thing about Pearl Jam. Not only have they grown and matured in the over 20 years since they blasted their way into mainstream music, but also they've consistently championed a version of 99%-style populism that's as in vogue in the age of Occupy as it was in the 90s.
Last week, Pearl Jam celebrated the release of their 10th studio album, Lightning Bolt, by dishing out a three-hour powerhouse set at Worcester, MA's DCU Center that was heavy on the Boston pride. Frontman Eddie Vedder was rocking a "Boston Strong" patch on his sleeve, and spent a good amount of time talking about his experience at Fenway Park for game two of the American League Championship Series. When he mentioned David Ortiz's 8th inning grand slam, the crowd cheered louder than they had for Pearl Jam all night. None of the band's members are from a city within a thousand miles of Boston, but their history of performing marathon concerts, fighting for affordable ticket prices and interacting with their audience has given Vedder and Co. the "Man of the People" credibility that ensured his Sox spiel didn't feel like pandering.