This Map Shows the Weird Things Each Country Leads the World In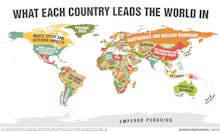 You've always known that the U.S. produces the most Nobel Prize laureates, Brazil has the most FIFA Worldcup titles, and Russia holds the most nuclear warheads.
But now there's a map to prove it! 
CLICK HERE FOR AN ENLARGED VERSION
CLICK HERE FOR AN ENLARGED VERSION
The map was produced by The Doghouse Diaries.
Each country is No. 1 at something; sometimes positive, like France's dominance in tourism, India's spot as the world's top feature movie producer and Norway's best quality of life. Other countries, on the other hand, excel at not-so-great things; look at Spain's title as the world's top cocaine consumer, China's label as most carbon emissions, and North Korea's most censored country.
And between the good and the ugly, there are countries that stand out for more weird categories; such as Venezuela's most Miss Universe winners, South Korea's spot as the top country with most workaholics, and Estonia's more women than men ratio.   
Here are some more quirky findings:
- Most Africa Cup of Nations titles: Egypt 
- Tallest people: Netherlands
- Most brain drain: Iran
- Most UEFA titles: Italy
- World's worst inflation: Zimbawe
- Most atheist country: Sweden
- Worst in gender equality: Yemen