Watch The Avett Brothers Reinvent Pearl Jam on Jimmy Fallon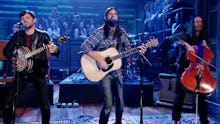 As usual, the Avett Brothers continue to mend our country's deep divides with their perfect blend of country-tinged rock, this time throwing in a splash of Seattle circa '92 for good measure. Quickly becoming favorites of Late Night host Jimmy Fallon, Seth and Scott performed on the show yesterday for the third time in the last month, this time teaming up with Soundgarden frontman Chris Cornell for a cover of Pearl Jam's Jeremy B-side, "Footsteps."
The performance was the first installment of Late Night's Pearl Jam Week, which will culminate when Fallon welcomes Eddie Vedder and the gang on Friday to promote the new Thunderbolt LP. 
Scott and Seth Avett were featured on banjo and guitar, respectively, and Cornell sang his usual grunge-growl finest in between harmonica licks.
Dropped the very same day as Pearl Jam's new record, the Avett Brothers' new Magpie and the Dandelion has had its own share of time on Late Night. Last month, the band premiered breakout track "Another is Waiting" on the show.
The group's balance of poppier sensibilities and their North Carolina roots have made them one of few bands that country and non-country fans can agree on, having even the swingstaters of Virginia feeling unanimous. They're also bearded and nice.
Finally, for any classical kid who ever felt uncool for playing cello, it's worthwhile to see how their cellist, Joe Kwon, can rock a cello greater than anyone ever dreamed it was possible to rock a cello. Take note.