The Effects Of This Dominican Court's Ruling Will Be Felt As Far Away As NYC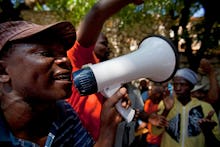 The Dominican Republic's Constitutional Court has released a decision revoking the citizenship of all the children of Haitian migrants born after 1929; it's a broad ruling that will affect at least 210,000 children of Haitian descent. Surprisingly, the ruling could also have repercussions as far away as New York City.
The resolution will gives one-year deadline to the Dominican Republic's electoral commission to compile a list of persons who will have their citizenship revoked. Dominican Republic-born Haitians who continue to live in the Latin American country, despite being identified by the commission, will be considered undocumented and subject to criminal penalties.
"Far from remaining in limbo like some critics are arguing, (they) will for the first time benefit from a defined status and identity without having to violate the law," Dominican Republic Immigration Director Jose Ricardo Taveras told the Associated Press. Taveras, along with many other conservative Dominican politicians, believe the measure will limit unauthorized immigration from Haiti and will improve the legalization process.
But the scope of the ruling's consequences will not remain exclusive to island of Hispaniola.
New York City has long been considered a safe haven for immigrants from around the world, especially to those from both Haiti and the Dominican Republic. In fact, New York City has the largest concentration of both Haitians and Dominicans living in the United States and is home to the oldest established communities of the Caribbean island's immigrants, according to the Center for Migration Studies of New York and the United States Census Bureau.
As more Haitians will avoid immigrating to the Dominican Republic because of the Constitutional Court's ruling, it is likely New York City will encounter a surge in immigrants from the former French colony. It is also very probable that tensions between members of both immigrant communities living in New York City will increase, possibly to a point where the next mayor might have to take sides on the issue, given its local impact and the stronghold that both groups have in the area.
The fast-approaching deadline that the Dominican Republic's electoral commission has to distinguish undocumented Haitian immigrants coupled with end-of-the-year New York City mayoral elections will result in the genesis of a new platform and policy issue.
The question of who the next New York City mayor will be and how they will address possible conflict between both immigrant communities following the Dominican Republic's decision remains unknown.