'Parks and Recreation' Hiatus: Why NBC Is Putting the Show in Time Out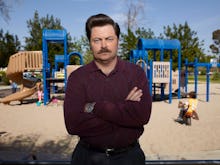 NBC quietly announced last Friday that, along with many other schedule changes, Parks and Recreation will be taking a little break. The beloved niche-market program will only appear four more times this year. Two episodes will air on November 14, and two more will follow on November 21. The rest of its normal time slots will be filled with special programming including The Voice, football games, an SNL Halloween show, The Sing-Off, and a live broadcast of The Sound of Music with Carrie Underwood. The lovable Pawnee gang won't appear again until January 9 at a new 8:30 time slot. 
Before you smash your Ron Swanson mustache comb in a fit of rage, let's explore why this is happening. The slew of schedule changes is NBC's flailing attempt to climb out of a ratings black hole and prop up at least one of their new shows. After an all-time low in the primetime ratings among adults 18-49 on October 11, it was clear that the network needed to make some changes in order to improve its embarrassing rank as seventh in the ratings game. It appears that NBC is attempting to provide a strong opening for new show, Sean Saves the World, with all the special programming.
While the odd scheduling is more than a nuisance for Leslie Knope fans, the good news is that it is very unlikely for NBC to kill the show with such an irregular end. The bad news is that, by tossing it out of the way for a struggling new show, NBC is showing a huge lack of faith in the series ever to increase its audience. Without The Office keeping Thursdays afloat, NBC has taken to bullying the little guys until they figure out why their programming has turned out such atrocious ratings.
The moral of this story is don't get too attached to anything on NBC. Until the folks over there figure out how to attract a decent audience, no time slot is safe.
Maybe this will give Ron time to grow his beard again.
Courtesy ParksandrecreationGIFS.