There's Cold Feet, Then There's Calling in a Bomb Threat to Avoid Your Wedding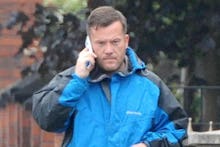 Imagine the sheer terror, the night before your wedding, of realizing you haven't booked the venue. All the guests have been invited, everything is prepared. It was all your fiancée could talk about. Early next morning, you try to tell her. She had woken up at 4am, donned her wedding gown, and looked utterly amazing. You can't get the words out. What can you do?
Neil McArdle, 36, sneaked into a phone booth and called the venue's reception. "This is not a hoax call," he said in a disguised voice, "there's a bomb in St George's Hall and it will go off in 45 minutes."
McArdle's intent was to postpone the weddings in the Hall so he can book it again without his fiancée finding out. But his call, made 11 days after the Boston marathon bombings in April, evoked terror within the neo-classical building in the centre of Liverpool. It was evacuated and special services were called in just as he arrived with his shocked bride-to-be, Amy Williams, 29.
Suspicion arose when the hall re-opened an hour later, and revealed that the couple didn't have a booking at the venue. McArdle was arrested the same day and admitted fully to the "ridiculous thing I did". The couple is still together, although this was the second time McArdle has failed to marry Williams.
It would have made a good comedy scene, but let's not laugh too long. It certainly isn't funny to McArdle, who has a 12-month sentence for causing terror and disrupting services, or to his still-fiancée, who has high blood pressure. Blame wedding jitters, blame too much stress. One nervous breakdown can lead to life-changing consequences, and it could happen to any of us. Let's have some pity on a poorly-organized man who made, literally, a bad call to get out of a sticky situation.