This Amnesty International Report Says U.S. Might Have Conducted War Crimes in Pakistan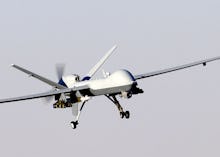 A report published jointly by human rights group Amnesty International and the watchdog organization Human Rights Watch warns that U.S. officials behind the government's drone campaign in Yemen and Pakistan may have committed war crimes. The report followed an unprecedented effort to investigate potential war crimes in some of the most dangerous and inaccessible spots on earth.
Investigations led by the two organizations sought to look closely at a number of cases that could have breached international laws protecting civilians, including a grandmother killed while picking vegetables or 18 day-laborers that died in a strike while waiting to eat dinner. Amnesty's investigation centered on nine of the many attacks conducted in the tribal areas of Pakistan over the past 18 months, while Human Rights Watch looked into six similar cases in Yemen.
The report is the culmination of an effort to force government officials to be more transparent and investigate civilian deaths by confronting the public with hard facts. In a press release today, executive director of Amnesty International USA Steven Hawkins said that "Instead of hiding the truth, the U.S. must take responsibility … [by] investigating unlawful killings, coming clean about who's being killed, and holding those responsible to account."
The U.S. government has historically sought to downplay civilian casualties, repeatedly claiming that very few have been killed by drones. According to statistics compiled by the U.K.-based Bureau of Investigative Journalism, however, as many as 100 civilians were killed in U.S. drone strikes in Pakistan at the height of American activity in the region in 2009.
The government has also ensured that drone strikes are consistent with all applicable domestic and international law, although factual and legal information about the drone program is closely guarded from the public eye. According to Human Rights Watch, some of the Yemen attacks investigated appear to breach the very guidelines announced by Obama earlier this year, specifically the pledge to kill suspects only when it is impossible to capture them.
The publication of the reports coincides with an official visit by Pakistan's newly sworn-in Prime Minister Nawaz Sharif. On his way to Washington on Saturday, Mr. Sharif said to British journalists during a short stop-over in London that drone attacks represent "assaults on independence of Pakistan." He warned that strikes were creating hatred against the U.S.
Activists hope that the evidence presented in these cases will pressure the government to launch an investigation and compensate victims. Beyond the potentially criminal acts highlighted, the report recommends that the government end its practice of secrecy and fully disclose the facts and legal basis for the killings.