13 Scary-As-Hell Places in America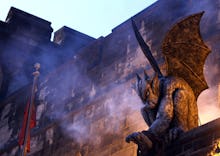 If you're like me, you're tired of the uber-commercialization of Halloween — gentrified hipsters ironically dressing up as Republican policies, nerds recreating their favorite obscure 1990s comedy, and dog "lovers" torturing their pets by dressing them up as Miley Cyrus' latest video. 
It is time we stopped this madness and returned to Halloween's traditional roots: scary paranormal activities and ghost legends that to this day continue to roam from coast to coast.
And there are a lot of haunted stories out there. Here are America's 13 most haunted places.
1. St. Louis Cemetery No. 1, New Orleans, Louisiana
Home of the tomb of voodoo queen Marie Laveau (c. 1794-1881), a free woman of color who became the most famous and powerful Queen of Voodoo in New Orleans, St. Louis Cemetery No. 1 is the resting place of Laveau (and her daughter of the same name) who together dispensed charms and potions to "foretell fortunes, heal and remain perpetually youthful." 
2. West Virginia State Penitentiary, Moundsville, West Virginia
This Gothic structure on the Ohio-West Virginia line was open between 1876 and 1995 and has witnessed riots, fires, and the execution of over 100 prisoners by hanging or the electric chair. According to popular belief, some of the haunted spirits of these tormented souls still roam the nefarious place.
3. Linda Vista Hospital, Los Angeles, California
A railroad hospital built in 1905 to take care of Santa Fe railroad workers who had been injured on the job is now abandoned and desolate. The creepy building has been used as a film location for several TV shows and movies. Crew members say they've heard "cries in the night and unexplained humming," seen "darting shadows" and apparitions (including a little girl in the surgery room).
4. Lincoln Square Theater, Decatur, Illinois
Opened in 1916, the Lincoln Square Theater is reportedly haunted by the ghosts of people who died in the two fires that preceded the building's days as a theater. In addition, some claim a one-armed ghost of a stagehand that fell to his death from a catwalk above the stage still roams through the building.   
5. The Stanley Hotel, Estes Park, Colorado
Open since 1909, The Stanley Hotel (which reportedly inspired Stephen King's novel The Shining) is reportedly haunted by the ghost of Ms. Elizabeth Wilson, a housekeeper who in 1911 suffered an electrical accident that left her unable to walk and who — to this day — "takes special care of people" who stay in room 217.     
6. Waverly Hills Sanatorium, Louisville, Kentucky
The old sanatorium, located in southwest Jefferson County, was a tuberculosis hospital that closed it's doors in 1961 and currently hosts "ghosts tours." In the 1930s Waverly Hills was seen as a place of aspiration, the Mayo Clinic of tuberculosis. People diagnosed with the deadly disease would come to Waverly from all over the country, hoping to go home healed. Waverly Hills closed in 1961, it's death toll in the tens of thousands. There is now what people describe as a "weird energy" around the place, with many lurking spirits. Many people believe Waverly Hills was haunted before the sanatorium was even built. Ghost encounters date back to the river Indians, who said they wouldn't enter the woods where the sanatorium was built because they were haunted.
7. Alcatraz Prison, San Francisco, California
Located on Alcatraz Island in the San Francisco Bay, Alcatraz served as a military prison beginning in 1868 and as a federal prison from 1933 until 1963. The infamous jailhouse, where inmates were reportedly tortured and kept in isolation, is reportedly haunted, according to accounts from tourists and personnel alike, who claim to have heard "ghostly noises and sensations."   
8. Bell Witch, Adams, Tennessee
Bell Witch is reportedly a center of "considerable paranormal activity" as well as the inspiration of numerous books, documentaries and movies (including 1999's The Blair Witch Project). According to legend, the ghost of a woman named Kate Baggs — later known as the Bell Witch — was a sinister entity that terrorized a pioneer family on Tennessee's early frontier between 1817 and 1821. Unlike the blockbuster films and many other ghost stories, the "Bell Witch" haunting involved real people and is substantiated by eyewitness accounts, affidavits, and manuscripts penned by those who experienced the haunting first hand.
9. Gettysburg National Park, Gettysburg, Pennsylvania
Gettysburg, site of the historic Civil War battle over 150 years ago, is another top place for paranormal activity with Sachs Covered Bridge, battlefield site Devil's Den and Servant's Olde Thyme Photos among the site's eeriest locations. Gettysburg has been named by many as the most haunted place in America.
What hauntings can you expect? At the old seminary atop Seminary Ridge, the site of heavy fighting, the old elevators stop at various floors. A group of students reported that once when the elevator stopped at the basement and the doors opened, there to their startled eyes was a fully functional operating room, staffed by bloody surgeons in old uniforms, who looked up, startled at the intruders, who swiftly got the elevator moving again, up.  And it has happened enough times that many students have started to take the stairs.
10. Eastern State Penitentiary, Philadelphia, Pennsylvania
This former prison operated from 1829 to 1971 was a hell on earth. The prison management locked inmates in solitary confinement for as many as 23 hours per day and punished them by strapping them so tightly to the "mad chair" that it was impossible for them to move at, all while sitting for days without food. No wonder current visitors and staff report hearing "unexplained eerie sounds" as well as "whispering," "laughing," and "weeping." 
11. Trans-Allegheny Lunatic Asylum, Weston, West Virginia
From 1864 until 1994, the Weston State Hospital served as home to thousands of people with mental illnesses (many of whom died behind its walls). According to witnesses, spirits believed to date back to the Civil War-era haunt the building and grounds (paranormal tours of the facility feature 2-hour visits to the asylum's four main hot spots, with the more intense one being an 8-hour "overnight paranormal adventure" with experienced ghost-hunting guides).
12. Ghost City Inn, Jerome, Arizona
Originally built as a boarding house for mine managers, the building later became a private residence for the Garcia family (who owned it for more than 50 years). In 1994, the property was turned into a bed and breakfast where "unusual things" reportedly happened, such as "doors slamming shut by themselves" and "spectral voices heard when no one is in the building" occur. A female ghost haunts the Cleopatra Room of this hotel. A male ghost has also been seen on the veranda. Ghostly voices and doors slamming shut have also been reported.
13. United States Capitol, Washington D.C.
Nothing seems scarier than the political gridlock that brought government to a halt, and almost pushed the United States to the verge of default. However, according to Jim Berard, Democratic communications director for the House Transportation Committee, the 200-year-old Capitol is said to be one of the most haunted buildings in Washington with murdered bodies, curses, demon cats, and even statues supposedly descending from their pedestals for "midnight minuets."